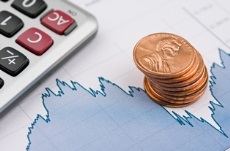 On Monday, USEC Inc. (NYSE: USU) had penny stock status at $2.75 per share.
Today (Wednesday) - just two days later - the global energy company traded as high as $12.26 per share, for a 346% increase.
You see, the United States Enrichment Corporation contracts with the U.S. Department of Energy (DOE) to produce materials for use in nuclear power plants. It's precisely that relationship that sparked USEC's skyrocket out of penny stock status this week.
And it's also the government that contributed to USU's fall to penny stock level. In fact, this energy penny stock used to be worth more than 200 times where it traded on Monday...
USEC's (NYSE: USU) Fall to Penny Stock Status
USEC was established in 1992 with the mission to supply enriched uranium and nuclear industry-related services and to expand its role in the resurgence of global nuclear power.
In 1993, it began operating as a government corporation, and in 1997, U.S. President Bill Clinton authorized the USEC privatization plan to sell the company to the public via an initial public offering (IPO). The federal government made $3 billion from the IPO.
USU stock peaked in 2007, nearly reaching $600 per share.
The energy company began building a full-size gas centrifuge plant in 2009, set to start operations in 2012. But in July 2009, the DOE failed to grant a $2 billion loan guarantee for a uranium-enrichment facility that had been planned.
Deprivation of the grant caused a "financial meltdown," according to USEC spokeswoman Elizabeth Stuckle, and the project had to be shut down. The company was heavily in debt, which only became worse over the next few years.
After 2009, USEC stock has dropped 89.08%. It downsized plants. On Dec. 16 - in agreement with most of its debt holders - the company filed for Chapter 11 bankruptcy restructuring to occur in Q1 2014.
In its most recent quarterly report on March 15, USEC had nothing but bad news. First quarter 2014 revenue fell by 53.6% compared to the same quarter a year before, and earnings per share plummeted to $37.28% compared to $245.25 the year before.
But this week showed sparks of a turnaround. With the bankruptcy filed and in process, and a promising R&D project in the pipeline, USEC has managed to soar from penny stock levels.
Here's why USU stock surged - and what it has to do to continue...
What a DOE Grant Can Do to a Penny Stock
On Tuesday, news of an official SEC filing for $2.5 million in funding from the DOE broke. USEC stock closed up 143.89% on the day.
The funding is for continued research on USEC's "The American Centrifuge Project." Since 2002, the company has been working to develop a highly efficient uranium enrichment gas centrifuge technology, called the American Centrifuge, for use in its American Centrifuge Plant.
The Plant, located in Piketon, Ohio, could have a capacity to provide around 20% of U.S. electricity supply. It's the only domestic enrichment facility that uses American tech - making it all the better in terms of national and long-term energy security.
You see, America used to produce more than 90% of the enriched uranium used in its nuclear reactors. By 2008, only 15% of the enriched uranium fueling American reactors was produced domestically.
Tuesday's news of an additional $2.5 million in funding pads the original agreement that was already in place. Under that deal, the DOE would pay USEC a total of $13.5 million under a monthly payment plan starting May 1 and ending Sept. 30.
USEC stock is up 65.41% year to date, and USEC stock traded at $10.58 per share at 12:30 p.m. EDT - up 43.17% on the day.
Whether USEC can keep its share price above penny stock levels will depend on the success of its American Centrifuge Project. Because of its historically bad track record over the last few years, investors should watch for Project results in coming months, as well as signs of continued growth, before committing to buy.
Money Morning Bioscience Investment Specialist Ernie Tremblay shared with readers his bioscience profit outlook for the rest of 2014. Therein, Tremblay broke down a strategy to tap into a segment of the bioscience market that's been tremendously profitable for some of the world's biggest drug companies - he thinks there are going to be some killer profits for investors, too...