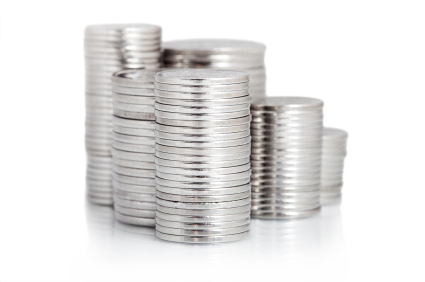 Silver prices began to flounder this week coming off impressive gains in June, but the U.S. Federal Reserve provided a quick spark in afternoon trading Wednesday.
By close of market Tuesday, silver was down 0.6% on the week and trending downward. But after the minutes from last month's Federal Open Market Committee (FOMC) meeting were made public at 2 p.m. EDT today (Wed.), silver prices rose 0.8% to $21.20 an ounce within the hour. By 3:22 p.m. ET, silver was trading up to $21.21.
Silver is an alternative investment and store of value that investors will add to portfolios primarily as an inflation hedge. While it isn't a premier precious metal investment like gold, it tends to attract like-minded investors and its price usually moves with the yellow metal - albeit, in a more volatile manner.
Its prices have also been tied to the words of the Fed as of late.
In March, Fed Chairwoman Janet Yellen followed up an FOMC meeting with a statement to the press that had many investors thinking interest rates would rise earlier than anticipated. Since rising interest rates put downward pressure on inflation, investors moved out of silver and prices plummeted. The week after Yellen's comments, silver was down 5.3%.
However, June's FOMC meeting had the opposite effect. In the press conference to follow, Yellen reiterated the point that interest rates would stay low for a "considerable time," and her continued dovish talk on the matter provided a spark. Silver was up 4.3% on the day, and rose 6.2% in the week to follow, trading at $21.12.
The minutes to FOMC meetings are released three weeks after the fact, and with the recent release reaffirming much of what was already said on interest rates last month, silver got another quick bump and made up some of its losses on the week.
Silver Prices Cooling Down from Hot June
This week's sluggish trading came after a June rally that was sparked by not only the Fed's reticence on interest rates, but also a number of short sellers liquidating their positions and going long in the face of yearly lows below $19 at the end of May, Jeffrey Christian, a managing partner at the CPM Group, told Money Morning.
"We didn't necessarily see a big spike in physical purchases in India or China or the United States," Christian said. "What we mostly saw was the price rising over the last couple weeks due to short covering."
He added, "Since that time the price has sort of stalled out."
Summer trading is historically weak for the white metal, and in the weeks to come there is likely to be some selling off and low-volume trading days that could cause prices to stagnate.
"I wouldn't be surprised to see a bit of profit-taking as the price may have gotten temporarily ahead of itself," said Money Morning Resource Specialist Peter Krauth.
But after that, Krauth said "we could well see continued strength," making now a good time to invest in silver.
After 117 years the London Silver Fix is finally shutting down in August, unencumbering the white metal from the artificially low price fixes set by a small coterie of banks. Here's what that means for white metal's price in 2014...