By Jason Simpkins
Associate Editor
While U.S. financial turmoil has seeped into virtually every global market, Russia has been devastated, as the country's largest stock exchanges, the MICEX and RTS, have suffered their biggest losses since the 1998 financial crisis. However, Moscow only has itself to blame after heavy-handed economic, political, and military tactics scared away the foreign investments it didn't oust directly.
Regulators suspended trading on both the MICEX and RTS for the second day in a row yesterday (Wednesday), after the nation's two biggest exchanges suffered their worst losses in nearly a decade.
The benchmark MICEX index tumbled 10% yesterday morning, extending a three-day decline that's eradicated 25% of its value. The index plunged 17.5% Tuesday, its worst one-day decline since 1998. The dollar-denominated RTS index was down more than 8% when trading halted yesterday, after dropping 11.5% the day prior. The RTS has lost 60% (more than $425 billion) of its value since the index  peaked at nearly 2,500 on May 17. 
Financial and energy stocks have led the retreat. Oil prices have plummeted close to 40% since hitting a record high of $147 a barrel in July, undermining investor confidence in Russia's prominent energy sector. Major state-controlled energy companies are off as much as 70% since May, the Globe and Mail reported. State-owned natural gas giant OAO Gazprom (OTC ADR: OGZPY) has seen its shares plunge by 29% since August and 46% since they peaked in May.
Meanwhile, Russia's banking system is in the midst of a liquidity crisis that has drained financial stocks. Despite government efforts to increase liquidity, lending rates have skyrocketed. The Moscow Prime Offered Rate - the benchmark lending rate more commonly referred to as the MosPrime Rate - spiked to 11.1% yesterday.
Also, yesterday, brokerage Kit Finance said it was in talks to sell a stake to a strategic investor after it failed to meet some of its financial obligations.
"The bond market remains effectively closed and banks are reluctant to lend to one another," Julian Rimmer, head of sales trading at UralSib Financial Corp. told Bloomberg News. "The problems experienced by KIT Finance have heightened counterparty risk and reduced liquidity further."
Russia poured $44 billion into its three largest banks - OAO Sberbank, VTB Group, and OAO Gazprombank - yesterday, after injecting $20 billion into the money markets the day before - a move that failed to re-ignite bank lending. The Finance Ministry also placed $5.8 billion into the banking system via one-month deposits.
Still, the country is struggling to rebound from the massive outflow of capital it witnessed as a result of the military dust-up it had with Georgia, its pro-democratic neighbor.
Russia's Military Strategy Backfires
In its haste to reclaim its status as a military superpower, Russia almost completely neglected to forge a coherent economic policy.  Moscow has relied too heavily on its energy exports, veered away from the principles of a free market economy, and ostensibly transformed itself into a rogue nation - isolated from the support and capital, of Western nations.
The dramatic rise in oil prices provided Russia with the world's third-largest stockpile of currency reserves, as well as a national budget surplus. But rather than channel that money back into infrastructure for the nation's booming energy and agricultural sectors, the Kremlin funneled the vast majority into the military.
Russia's revenue for the first half of 2008 amounted to approximately $176.5 billion, according to figures recently released by the State Committee for Statistics. And while expenditures totaled $120.9 billion in the first half, the Russian government is projected to spend roughly $278.6 billion under the full-year 2008 budget.
At least 25% of Russia's expenditures during that time - or about $31 billion - went directly into defense and security, and that's before Russian troops flooded into Georgia. The budget also includes $15 billion for discretionary spending, which means the amount allotted to national security could end up being closer to 30%-40% of overall spending.
Meanwhile, a paltry $133 million went into infrastructure for the country's breadwinning energy sector. And the agricultural sector, which employs a large share of the Russian population, received just $363 million. Combined, those amounts equate to less than 1% of the budget for the first six months of 2008. 
In addition to neglecting infrastructure improvement's for its two most profitable sectors, Russia also failed to shore up what is proving to be an unstable banking sector.
"The Russian banking system is not developed enough to provide the long-term financing that companies need to grow," Douglas Rediker, a Russia specialist and former investment banker at the New America Foundation, told the Washington Times.
"If the Chinese were to stop lending to the United States tomorrow, it would have a severe impact, but we would still have a pool of domestic funds available," Rediker said. "In Russia, they don't have the means to replace [global lenders.]"
That is precisely the problem now, as Russia's recent military incursion into Georgia, and political interference in the private sector, have scared foreign investment out of the country.
Capital outflows totaled $21 billion in the two weeks ended Aug. 22 - the two weeks following Russia's Aug. 8 invasion of Georgia - according to Goldman Sachs Group Inc. (GS). Estimates of capital flight over the past four weeks range between $15 billion and $20 billion.
"At least in part because of the Georgia crisis, Russian financial markets have lost nearly a third of their value, with losses in market capitalization of hundreds of billions of dollars," William Burns, undersecretary of state for political affairs, told a Senate hearing. "Capital is fleeing Russia, with $7 billion leaving on Aug. 8 alone."
In a note to investors, UBS AG (ADR: UBS) reduced its price targets for Russian assets by an average of 20% acoss the board, based on increased political risk.
Putin's Domestic Agenda Drives Off Investment
However, the military action in Georgia isn't the only reason foreign investors are fleeing in these times of uncertainty. Over the past several years, and particularly the last few months, the Kremlin has been anything but a gracious host to foreign companies.
Two years ago, the government seized OAO Yukos Oil Co., formerly Russia's largest oil producer, on trumped-up tax charges, and put its chief executive in jail. Soon after, Royal Dutch Shell PLC (RDS.A, RDS.B) was forced to relinquish control of its Sakhalin-2 oil and gas project to OAO Gazprom for $7.45 billion, after the Russian government threatened to block investment plans by canceling building permits on environmental grounds.
Earlier this month, BP PLC (ADR: BP) finally conceded to the demands of its Russian partners over a dispute involving joint venture TNK-BP. BP gave in to demands by its Russian counterparts to replace TNK-BP's chief executive, Robert Dudley.
This decision came after Russian authorities raided the venture's Moscow offices in July, and arrested one employee for espionage, and after the government refused to renew visas for 148 employees, forcing Dudley to flee Moscow.
Finally, in July, Prime Minister Vladimir Putin criticised mining firm Mechel for selling coal cheaper abroad than on the domestic market. Referring to the company's CEO, who had been taken ill, Mr Putin advised him to get better soon, "or we will have to send him a doctor and clean up all the problems."
This resulted in an investigation by the Russian Federal Anti-Monopoly Service, and cost Mechel $5 billion in market capitalization.
Events such as these make it apparent that rather than encouraging private enterprise in Russia, policymakers are intent on nationalizing what parts of the energy sector they can, and dissolving what they can't. This, as much as the war with Georgia and a policy of increasing isolationism, has driven investors from Russia's market.
"Putin's comments on Mechel made the initial impact, then after Georgia everyone started pulling out of the stock markets," a British lawyer working in Moscow, who has seen deals cancelled and business dry up over the past few weeks, told the Independent.
"Add in to the mix that energy and commodity stocks have been falling worldwide on fears of a worldwide recession and you have a fairly bleak picture," the unnamed lawyer told the newspaper. "If Putin knew how to behave, the crisis would be a lot less serious, as investors had until very recently seen Russia as a good place to weather the global economic storm."
News and Related Story Links:
Here Are 10 "One-Click" Ways to Earn 10% or Better on Your Money Every Quarter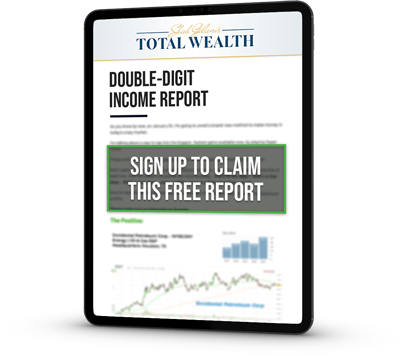 Appreciation is great, but it's possible to get even more out of the shares you own. A lot more: you can easily beat inflation and collect regular income to spare. There are no complicated trades to put on, no high-level options clearances necessary. In fact, you can do this with a couple of mouse clicks – passive income redefined. Click here for the report…