By Jennifer Yousfi
Contributing Writer
Money Morning
By grabbing $26 billion in private pension money last month, Argentina may have put itself on track for its second debt default in a decade – ironically, the very situation that country's government had hoped its bit of leisure-fund larceny had hoped to avoid.
"The misguided macroeconomic and monetary policies, especially the confiscatory tax policy and huge government spending – much of it inefficient – was doomed to catch up with the country someday," says Horacio Marquez, a Wall Street veteran, emerging markets specialist and editor of two trading services affiliated with Money Morning: The Money Moves Alert and the Shadow Stock Trader services.
Argentina's act of not-so-petty larceny was launched late last month when the government, in a surprise move, ordered Argentine pension funds to liquidate their foreign holdings, the first step in a plan to transfer that money into the state pension system. Argentine President Cristina Fernández de Kirchner said she abolished the 14-year-old private pension system to protect pension money at a time of global turmoil and denied the government had grabbed the cash to service its crushing debt, which officials told The Financial Times is now about $21 billion.
The reality is, however, that surpluses from the state system – known as "Anses" – already have been a key source of government funding, especially in the past year, after a surge in the number of workers returning to the state plan caused its holdings to surge substantially. Expect the use of those surpluses to continue.
Indeed, the government is clearly hoping that the addition of the assets from the private pension system will create an even-bigger surplus that it can use to service its debt. Otherwise, the government might have to cut back significantly on the spending programs that benefit Argentine citizens. And since 2009 is an election year, such cutbacks aren't an option.
But the strategy is fraught with peril. First, the decision "effectively killed the primary institutional investor in its emerging capital market," the World Bank said. "Confidence in this market has predictably suffered from this measure, the latest in a series of government meddlings."
The move calls to question what the government will do about the $10 billion in private investments, including the shares of both foreign and domestic firms.
That makes Anses the country's biggest investor in its capital markets, whose liquidity and depth will become greatly reduced, The FT said. And the disappearance of the private pension funds will raise a lot of concerns over how the government will be able to keep a steady supply of credit available to consumers, whose spending drives the economic growth in that country, as it does here in the United States.
The lack of available credit major combined with a downturn in confidence in the Argentine financial system might well be the double-whammy that pushes Argentina into a major downturn, which could easily translate into another debt default.
Haunted by Past Problems
To really understand what happened, we need to turn back the clock to 2001, when Argentina – Latin America's second-largest economy – found itself on the brink of financial collapse. A loss of confidence in the country and its policies induced a surge in capital flight and a major run on the nation's banks, as investors and Argentine citizens alike exchanged pesos for U.S. dollars, which they then sent abroad.
Argentina was forced to default on the lion's share of its public debt, estimated at $93 billion. Even today, however, an estimated 30% of Argentina's bondholders still refuse to accept the 70% discount the government offered to settle the default.
Even in a world not currently gripped by a global credit crisis, Argentina would likely have found it impossible to obtain the finding needed to finance its government operations. But the financial crisis is a stark reality, meaning that the few sources of funding that remain available in the world markets are not open to Argentina.
And with Argentina's agriculture-heavy domestic economy slumping badly – and now certain to feel the sting of the plunge in food-and-commodity prices – the central government is left with a possible debt-payment shortfall of as much as $10 billion for next year.
"With the abrupt drop in commodity prices, it left Argentina's 'cleptocratic' government little room other than to confiscate private savings in order to reduce its chances of defaulting again in 2009," says Marquez.  
Default Déjà Vu?
There are some disturbing similarities between Argentina's current economic crisis and the economic malfeasance that led the country to default on its debt in 2001.
Then, as now, the government faced accusations of corruption and mismanagement of debts. Argentina's current president, Cristina Fernández de Kirchner, succeeded her husband, former President Néstor Kirchner, in December 2007. Like her husband, President Kirchner has been accused of employing dubious accounting tactics.
It is widely believed that the current president Kirchner has underreported Argentina's inflation situation by replacing members of the state statistical office with handpicked analysts "friendlier" to the administration's view.
During Kirchner's husband's administration, which ran from 2003-2007, several industries were nationalized. Despite having campaigned on a socialist platform of "returning to a republic of equals," he nevertheless oversaw the state takeover of the postal system, water works and railways.
The pattern of the Argentine government's failure to acknowledge economic reality continues.
The legislature recently passed the budget for 2009, that bases its financial assumptions on 4.0% economic growth (as measured by gross domestic product growth), 8.0% inflation, and a currency valued at 3.19 pesos for each U.S. dollar (despite the fact that it currently takes 3.33 pesos to buy one U.S. dollar), MercoPress reported.
Many economists feel Argentina's economic growth is likely to be much lower. JPMorgan Chase & Co. (JPM) predicts just 1.0% GDP growth for 2009. And some economists have predicted inflation as high as 20%.
Current President Kirchner has chosen to blame the global financial crisis for the government's need to grab of private sector assets – without acknowledging the role that her administration, and the domestic economy, have played in the current economic crisis.
"There was a [private] system that spectacularly collapsed. This was a policy of looting," Kirchner said in an attempt to justify the nationalization, the AFP reported.
"It is evident that when nobody regulates the market, nobody controls it and it is allowed to do what it wants, we wind up with a financial disaster like the one the global economy faces," she added.
But it's widely acknowledged that without the projected $4.5 billion to $5.0 billion in worker inflows to the private pension system next year, coupled with the current $24 billion in deposits, the Argentine government would find itself dangerously close to another default.
Despite all of the similarities between Argentina's past and current economic troubles, there's one important difference for global investors.
During Argentina's prior collapse, Mexico and Brazil – large Latin American economies and important Argentine trading partners – were faced with their own economic crises. It cast a pall over Latin American investing for emerging markets and international investors. But that's not the case this time around.
"Argentina, unlike Mexico, China and Brazil, is a fairly closed economy," says Shadow Stock Trader editor Marquez. "Therefore, the impact to other economies from the Argentine pension nationalization is almost negligible."
Argentina's Economic Isolation
Even with its strong average economic growth of 9% for the past several years, Argentina hasn't been a smart place to park investments since the 2001 crisis.
During the prior economic collapse, large numbers of business owners and foreign investors alike yanked all of their cash out of the Argentine economy and sent it to safer havens aboard. Needless to say, this caused a capital squeeze, and many businesses of all sizes failed, causing unemployment to soar, and government receipts to plummet. With no sources of income, many struck out on their own, without the presence of the owners and their capital, as self-managed "cooperatives." This helped create some economic and job growth where there was none, and eventually the economy started to rebound.
Although GDP has grown consistently and quickly since 2003, it was only in late 2004 that it reached the levels of 1998 – the last year of growth prior to the recession. (the last year before the recession). Other macroeconomic indicators have have shown a similar rebound pattern.
Strong commodity prices fueled an economy that counts soy as its biggest export, but government mismanagement and questionable economic policies continue to make Argentina a poor investment.
Standard & Poor's Inc. recently downgraded the country's credit rating to B-, well below investment grade.
"It's a textbook definition of an economic disaster," Nick Chamie, head of emerging-market research at RBC Capital Markets Corp. (RY) in Toronto, told Bloomberg News. The S&P ratings reduction "confirms what the rest of the market knows – that Argentina is close to default and that risk is very high."
But the good news for global investors is that Argentina's problems are unlikely to spill over into the economies of its healthier Latin American neighbors.
Even Brazil, Argentina's largest trading partner, is likely to be unaffected by its Latin American neighbor's current economic trouble. Argentina accounts for only 9% of Brazil's exports. And the planned liquidation of foreign assets in Argentina's pension funds will amount to just $540 million worth of in Brazilian equities – too little to have much of an impact on the Brazilian market.
"Argentina's government does not pass the first 'C' of credit analysis: character," says Money Morning's Marquez. "It is not only the ability to pay [its debt-service payments], but the willingness to do it and the track record in doing this that matters."  
Compared to the fiscal responsibility of neighbors Brazil and Chile, Argentina's history of borrowing and default make it a bad bet.
Latin America still hosts several choice investment opportunities, but you won't find them in Argentina.
"The nationalization of pensions in Argentina shows the escalation of confiscatory government policies," says Marquez. "In this environment, where flagrant violations of property rights are escalating, Argentina is no place to invest."
News and Related Story Links:
Here Are 10 "One-Click" Ways to Earn 10% or Better on Your Money Every Quarter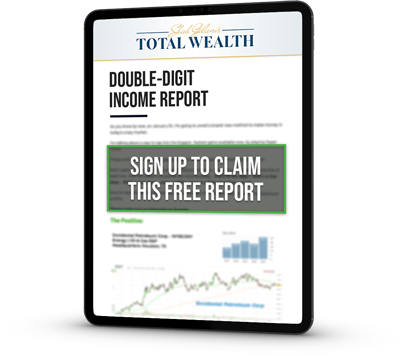 Appreciation is great, but it's possible to get even more out of the shares you own. A lot more: you can easily beat inflation and collect regular income to spare. There are no complicated trades to put on, no high-level options clearances necessary. In fact, you can do this with a couple of mouse clicks – passive income redefined. Click here for the report…