["Hot Stocks" is a new Money Morning feature that analyzes the investment outlook of global companies that are in the news. This is the eighth installment of this ongoing investment series.]
Money Morning Staff Reports
If you like the car, will you love the company?
When it comes to Ford Motor Co. (F), a Canadian car dealer bet a month's sales on that premise.
Rose City Ford dealership owner John Chisholm offered 100 shares of Ford stock to anyone who bought a new or used vehicle from the dealership during the month of November, the Windsor Star newspaper reported. Chisholm, the president and general manager of Rose City, said he got the idea from a General Motors Co. (GM) dealership in Texas that offered GM shares for each vehicle sold. So Chisholm opted to try it in Windsor, the Ontario, Canada city where Ford has both a long history and deep community roots.
"What a great way to show our confidence in the company," Chisholm, who employs 80 at a dealership that his father founded nearly 30 years ago, said in an interview late last week. "We believe the company is going to be around for a long, long time."
Chisholm was planning to actually buy the shares Monday for customers who bought a vehicle last month. He expects to extend the promotion, should its popularity continue.
"We want as many people with ownership in the company as we can," said Chisholm, who owns Ford shares himself. "They'll be going up. This is an incentive that is going to grow."
Just how big a payoff the incentive deal provides the dealership's customers will depend on whether Ford is able to turn itself around in the coming months.
Thanks to the ongoing global financial crisis – and stung by the worst sales slump in 25 years – Ford lost $3 billion in the third quarter and now the Dearborn, Mich.-based company and its two other "Big Three" cohorts are pressing both U.S. and Canadian lawmakers for emergency aid. All three are to submit turnaround plans to Congress this week – a requirement if General Motors, Ford and Chrysler Corp., are to receive $25 billion in U.S. government bailout loans.
Some details began to emerge yesterday (Tuesday), according to a report that runs elsewhere in today's (Wednesday's) issue of Money Morning. Among other things, Ford is considering the sale of its stake in Volvo as it seeks to raise cash.
Anthony J. "Tony" Faria, a marketing expert who is the co-director of the University of Windsor/DaimlerChrysler Canada Automotive Research and Development Center (ARDC), told the Windsor Star that the Ford promotion was "interesting" and "attention-getting," even though the present value to customers was less than $300, a small inducement compared to other incentives and rebates.
"I presume Detroit Three dealers probably will be looking for a lot of creative things they can do to improve traffic through their dealerships," Faria said.
Promotional flyers for what the dealership portrayed as "confidence sale" exhorted local customers to "be a part of history," proclaiming that "100 shares is the way forward." Public interest has already been piqued by the inexpensive promotion, which customers say they like because of the potential for a big payoff, the newspaper reported.
"The 100 shares are an absolute bonus," customer Tina Reed said, just before she drove away from the dealership in a brand-new charcoal-gray Ford Focus. "I keep an eye on the stock market but now I'll pay a little more attention."
JP Morgan Chase & Co. (JPM) credit analysts had rated GM's distressed debt as a "Buy," noting that the company – known for such brands as Chevrolet and Buick – was likely going to survive.
Interestingly, Ford has a market cap of $6.09 billion – making the company known for bringing forth such innovations as mass production, the Model T and the assembly line more than twice as valuable as GM, the market-share leader (of the U.S. carmakers). Ford had $172.5 billion in sales last year, and $160.1 billion in 2006.
GM had $181.2 billion in sales last year and $205.6 billion in 2006, according to statistics provided by Google Finance. The company right now has a market value of only $2.8 billion.
Shares in the embattled automaker hovered near $30 in 2001, but have nose-dived since that time. GM's shares closed Monday at $4.59 each, a decline of 65 cents each, or 12.4%. They have traded as high as $29.95 in the past 12 months.
Ford shares closed Monday at $2.55 each, down 14 cents, or 5.2% per share. They've traded as high as $8.79 in the past year.
Whether the price will tank or skyrocket in these uncertain times is anybody's guess but many, including Faria, the marketing expert, believe the stock is poised for a rebound – especially if the U.S. and Canadian governments can agree on a multibillion-dollar bailout package.
I've seriously thought about buying a lot of Ford shares at this price because one of two things is going to happen," Faria said. "Either Ford is going to fail and you're going to lose all of it or, if Ford doesn't fail, the shares, at some point, are going to be worth a lot more."
Faria said Ford was in better shape financially than GM and Chrysler, but conceded that the fates of all three are intertwined because they share suppliers dependent on business from all three – and because of the need for government aid.
Not everyone sees a bright future for Ford. Indeed, one Web site wag wrote on the Windsor Star Web site that "I have some Penn Central, WorldCom., Enron, Nortel (NT) and Citibank (C) shares if Mr. Chisholm would like to take them in trade for a new car. They are in certificate form, so he can use them to decorate the showroom. Cheaper than buying new wallpaper."
News and Related Story Links:
Here Are 10 "One-Click" Ways to Earn 10% or Better on Your Money Every Quarter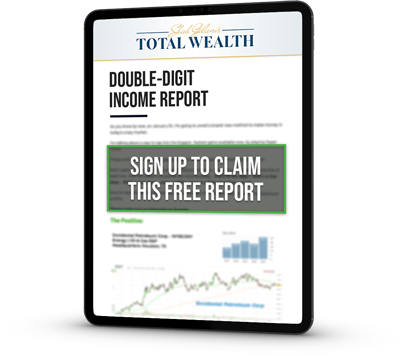 Appreciation is great, but it's possible to get even more out of the shares you own. A lot more: you can easily beat inflation and collect regular income to spare. There are no complicated trades to put on, no high-level options clearances necessary. In fact, you can do this with a couple of mouse clicks – passive income redefined. Click here for the report…