[Editor's Note: The latest installment of an occasional series that looks at finance and career strategies for navigating the jobless recovery.]
By Jason Simpkins
Managing Editor
Money Morning
There's no
question that the U.S. job market is tough across the board right now. But not all pain is created equal: There are regions of the country – and sectors of the U.S. economy – that haven't been hit quite as hard as others.
Indeed, some regions – and some sectors – that are proving quite resilient.
So, if you're in the market for a job, it might be a good idea to target those areas and sectors that have demonstrated flexibility over several decades and are best able adapt to 21st century trends.
For job-seekers, it all comes down to this: You have to know what's hot – and what's not.
The three graphs below – based on data from the Federal Reserve Bank of St. Louis – show the number of people working in the 12 different sectors of the U.S. economy since 1939. The shaded areas represent periods of recession.
Virtually all of the sectors have grown consistently over the past 70 years. The one noticeable exception is manufacturing, which peaked in the late 1970s and has been in decline ever since.
Government jobs and jobs in education and healthcare – referred to as "Eds & Meds" in economic parlance – have provided the most consistent growth, even in the current recession, which has also been the most severe in the time period studied. However, the biggest supplier of jobs continues to be the trade, transportation and utilities sector.
In the current recession – which began in December 2007 – job losses were severe in the commercial and resident real estate business, but more recently have shown signs of stabilizing. Employment in construction decreased by 59,000 in May, compared with an average monthly job loss of 117,000 in the industry for the previous six months, according to the U.S. Labor Department.
Job losses in professional and business services also moderated in May. The industry shed 51,000 jobs, compared with an average loss of 136,000 jobs per month in the prior six months.
Employment in the leisure-and-hospitality and government sectors was about flat, but the manufacturing sector continued to deteriorate— with employment falling by 156,000 for the month.
But the healthcare sector continued to display resilience, increasing by 24,000 jobs. That makes sense: Long term, as the U.S. population continues to "gray," the healthcare sector figures to keep adding workers in order to keep pace.
Job Growth in the 'Clean Energy Economy'
While healthcare and education, along with the government, continue to be the most consistent employers of the American public, increased environmental awareness and more government incentives have made the clean energy sector a viable option for steady employment.
In fact, from 1998 to 2007, the number of jobs in the "clean energy economy," grew nearly two and a half times faster than the overall job market, according to a recent study by the Pew Center on the States.
Jobs in the clean energy economy grew at a rate of 9.1% during that time, compared to a rate of 3.7% for traditional jobs. By 2007, more than 68,200 clean energy businesses across the United States accounted for about 770,000 jobs.
The clean energy economy includes jobs in clean energy, energy efficiency, environmentally friendly production, conservation and pollution mitigation, and training and support.
The report found that 65% of jobs in the clean energy economy are in the category of conservation and pollution mitigation. However, jobs in the categories of clean energy, energy efficiency, and environmentally friendly production are growing at the fastest rate.
California has more jobs in the clean-energy economy – more than 125,000 – than any other state, and that number has grown at an average annual rate of 0.9% between 1998 and 2007. Other states in the Pacific Northwest – Oregon and Washington – also have large and growing clean energy industries. Florida, Texas, Tennessee, and Colorado are also notable for their large and growing clean energy industries.
The St. Louis Fed report notes that venture capital was a driving force behind clean energy before the global financial crisis struck. In 2008, investors directed $5.9 billion, or 15% of all global venture capital investments, into the clean energy economy, a 48% increase over 2007. Between 1998 and the end of 2008, a total of about $12.6 billion in venture capital money had been directed into the clean-energy economy.
Of course, venture capital investment has declined considerably since the collapse of the global economy. The Pew Center study found that during the first three months of 2009, investment in clean energy was down 48% compared to a year earlier. However, the report also found that investment in clean energy still outpaced such investment elsewhere. During the same time period, total venture capital investment decreased by 61%, and that trend is expected to continue.
"Analysts suspect that the green industry will weather the downturn better than other market segments, both because of stimulus and because the drivers for growth are still there," Kil Huh, Project Director for the Pew Center on the States and a principal author of the study, told Social Funds.com. "Consumers continue to call for a viable alternative to traditional energy sources."
Furthermore, increased government investment should help compensate for the dearth of venture capital. The American Recovery and Reinvestment Act of 2009 (ARRA) provides $85 billion in spending for energy and transportation, and includes $21 billion in tax incentives for renewable energy, as well as more than $30 billion for spending on a variety of clean energy programs.
Additionally, 29 states and the District of Columbia have established renewable portfolio standards, Social Funds reported. And 19 states have established Energy Efficiency Resource Standards that encourage a continual increase in energy savings on the part of utilities.
While venture capital was abundant in the years leading up to the financial crisis, government funding was absent. Huh believes this new wave of political support will continue to carry the industry until private sector investment rebounds.
"The growth happened with a lack of sustained government support, and we suspect that recent government actions will help job growth in the green economy significantly," Huh said. "Federal proposals for a market-based system for climate control will help shape consumer demand. The legislation would move the entire industry in that direction of clean energy. The green energy economy seems poised for continued growth."
Location, Location, Location
Just as some sectors have fared better than others, the financial crisis has had an unequal impact on various metro areas across the country. Parts of the country that had overly inflated property markets suffered greatly from the collapse of the housing market. Similarly, local economies in the Midwest were devastated by bankruptcies in the American auto industry.
On the other hand, metro areas with high concentrations of government jobs or jobs in health and education have been much better off.
The Brookings Institution's MetroMonitor examined such economic indicators as employment, unemployment, wages, output, home prices and foreclosures throughout the first quarter of 2009.
"Economic pain is widespread in Midwestern metro areas that depend heavily on the auto industry and its supply chain," the report said. "Most metro areas in Michigan and Ohio have experienced employment and output declines exceeding national averages. Several, including Dayton, Detroit, and Youngstown, began losing jobs two to three years earlier than the U.S. economy as a whole."
These areas are likely to continue to struggle as both General Motors Corp. (OTC: GMGMQ) and Chrysler LLC engage in lengthy restructuring processes.
Additionally, large portions of the South and West – including such states as Florida, Arizona, Nevada and California – continue to suffer the fallout from the housing collapse.
However, the effects of the financial crisis have been far more muted in other parts of the country.
"Job losses have been more modest, and housing prices have risen slightly, in many Northeastern metro areas that have less auto-oriented manufacturing sectors (e.g., aerospace in Hartford [Connecticut], photonics in Rochester [Upstate New York], plastics in Scranton [Eastern Pennsylvania])," according to the MetroMonitor. "Parts of the Southwest and Deep South—including metro areas in New Mexico, Texas, Oklahoma, Arkansas, and Louisiana—have performed relatively well, experiencing less severe job losses, relatively large wage gains, and modest home price increases."
The report attributes buoyancy in the Southwest – particularly Texas – to a strong specialization in energy. It also points out that large amounts of hurricane recovery funding for the Gulf Coast and smaller increases in housing prices in the earlier part of the decade could also be factors in that region's resilience.
Predictably, city centers with large educational and medical labor forces performed better than the broader job market. Metro areas with specializations in education and healthcare saw employment drop by an average of 2% from the fourth quarter of 2007 through the first quarter of 2009. That compares to a national employment decline of 3.7% over that same period.
Metro areas with a specialization in government/military employment – such as Washington D.C., El Paso, Texas, and Honolulu Hawaii – saw average job losses of 1.3%.
Some of the areas that were most susceptible to the housing collapse were also hit by a decline in tourism, as metro areas specializing in entertainment and recreation – such as Orlando, FL and Las Vegas, NV – experienced a 4% average drop in employment.
[Editor's Note: In future installments in this series, Money Morning will look at such jobless-recovery topics as career-management, managing your finances, planning for retirement, and promising sectors for the future.
In the meantime, don't forget your investments. But in a market as uncertain as the one investors face now, it helps to have a guide. And the ideal guide is The Money Map Report, the monthly investment newsletter that's a sister publication to Money Morning. In fact, a new offer from Money Morning is a two-way win for investors: Noted commentator Peter D. Schiff's new book - "The Little Book of Bull Moves in Bear Markets" - shows investors how to profit no matter which way the market moves, while our monthly newsletter, The Money Map Report, provides ongoing analysis of the global financial markets and some of the best profit plays you'll find anywhere - including such markets as Taiwan and China. To find out how to get both, check out our latest offer. ]
News and Related Story Links:
Here Are 10 "One-Click" Ways to Earn 10% or Better on Your Money Every Quarter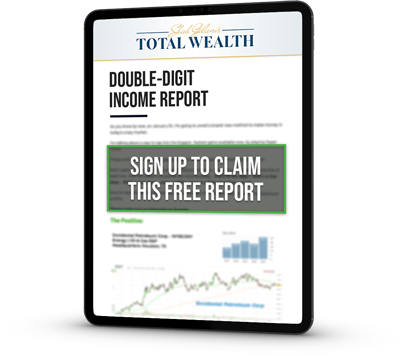 Appreciation is great, but it's possible to get even more out of the shares you own. A lot more: you can easily beat inflation and collect regular income to spare. There are no complicated trades to put on, no high-level options clearances necessary. In fact, you can do this with a couple of mouse clicks – passive income redefined. Click here for the report…