The U.S. government's deepwater oil drilling ban, which resulted from the BP PLC (NYSE ADR: BP) Gulf oil spill, prompted some readers to question how far U.S. authority reaches regarding offshore business, and what kind of international repercussions could result.
Q: Where do international waters begin for the Gulf of Mexico? I read somewhere if we didn't drill for oil in the Gulf that China was going to do so. When you are talking international business, does U.S. President Barack Obama have the authority to shut it all down?
- John M.
The United States has an exclusive economic zone extending 200 nautical miles offshore, for a total 3.4 million square nautical miles of ocean, larger than the total U.S. land area. It has control over all economic resources in that zone including oil exploration, fishing, and mining - and pollution of those resources.
The blown out Macondo well is located 40 miles off Louisiana's coast. The spilled oil, millions of gallons of which are still drifting at sea, has not been spread across the lines into international waters.
The countries most concerned about the oil spill reaching their shores include Cuba and some Caribbean nations. Experts have said if the spill reaches Cuba it would be "a disaster," as the country is not at all equipped for a spill of that magnitude. The spill could get caught in the loop current that pulls water from the gulf and wraps around Florida, allowing oil to reach Cuba's pristine white sand beaches.
President Obama does have the authority to shut down oil drilling in the Gulf area within the U.S. economic zone - and has done so with his six-month ban, despite opposition from the Louisiana government, oil companies and local workers.
China cannot enter the U.S. economic zone in the Gulf of Mexico and drill as the ban extends to all companies and countries trying to use plots in those waters. A federal court judge struck down the ban last month, but the U.S. Interior Department issued a new order July 12 designed to circumvent any legal challenges.
The new ban is revised to allow for some drilling in water deeper than 500 feet as long as the companies involved meet certain conditions. Rig owners must prove they have a backup plan in place to tackle an out of control well, prove that their blowout preventers have passed safety tests, and ensure sufficient cleanup resources are in place to act quickly if needed.
Although toned down, the new moratorium still applies to almost all deepwater rigs operating in the Gulf of Mexico. Instead of other nations coming in, drilling rigs are starting to head out of the Gulf to foreign waters.
Diamond Offshore Drilling, Inc. (NYSE: DO) announced July 9 it would move its deepwater rig Ocean Endeavor to Egypt from the Gulf of Mexico, and on July 12 said it was relocating the Ocean Confidence to the Republic of Congo.
"As a result of the uncertainties surrounding the offshore drilling moratorium, we are actively seeking international opportunities to keep our rigs fully employed," Larry Dickerson, chief executive officer of Houston-based Diamond Offshore, said in a statement. "We greatly regret the loss of U.S. jobs that will result from this rig relocation."
Royal Dutch Shell PLC (NYSE: RDS.A, RDS.B) said its flagship Gulf of Mexico deepwater field Perdido has been shut down since April. The field was expected to produce 100,000 barrels of oil a day to supply 2.2 million American homes.
The moratorium has left seven Shell rigs idle and led the company to write off $56 million in the second quarter. Instead of moving the rigs, Shell has been working on negotiating price reductions for rig leases.
Other companies facing multi-million dollar losses include Norway's Statoil ASA (NYSE ADR: STO), which said the ban will cost it $100 million this year.

The number of offshore rigs operating in U.S. waters has plunged 71%, to 16 from 56 before the blowout, according to surveys by Baker Hughes Inc. (NYSE: BHI). The drilling ban could send more rigs out of the Gulf, causing more U.S. job losses and drastically limiting this year's profits from the U.S. offshore drilling industry.
"When deepwater rigs resume drilling again operators will face longer lead times for permitting and higher costs," Barclays Capital analyst James Crandell said in a note to clients. "We thus project that deepwater drilling in the gulf will return to only half to two-thirds of its former level over the next 12-18 months."
The United States could extend the ban longer than its Nov. 30 expiration, but the effect on the U.S. economy and its goal to increase its energy independence could prevent such a drastic change in the energy policy.
While companies with more impressive safety records could resume drilling before the ban is lifted, the future of BP's Gulf business will be debated in Congress over the next few months.
House and Senate leaders presented legislation this week imposing stricter drilling regulations, and the House version barred BP from new leases due to its troubled safety record.
"BP does not fit Americans' expectations of how a responsible company should act," Rep. George Miller, D-CA, who drafted the safety measure, said yesterday (Thursday) in an e-mail. "This provision would ensure that only responsible and safety-minded companies drill in American waters."
Miller cited BP's "flagrant history of taking risks to boost profits that has resulted in deaths of workers, destruction of the environment and economic chaos in local communities."
"Under this provision BP would not qualify for new leases or drilling permits until they clear a seven-year window without serious violations," Miller said.
Possibly the most urgent task of BP's new chief executive officer Robert Dudley, who the company announced Tuesday as the successor of ousted Tony Hayward, is to persuade the U.S. government to ease restrictions on BP's Gulf drilling.
(**) Money Morning editors reserve the right to edit responses for grammar, length and clarity when posting on our Web site. Please include your name and hometown with your email.
News and Related Story Links:
Here Are 10 "One-Click" Ways to Earn 10% or Better on Your Money Every Quarter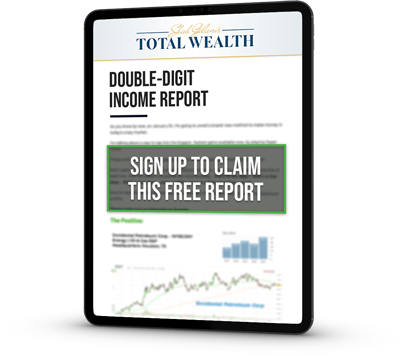 Appreciation is great, but it's possible to get even more out of the shares you own. A lot more: you can easily beat inflation and collect regular income to spare. There are no complicated trades to put on, no high-level options clearances necessary. In fact, you can do this with a couple of mouse clicks – passive income redefined. Click here for the report…