Global Geophysical Services Inc. (NYSE: GGS) played today's (Tuesday) "stock market crasher," plunging 60.68% to an all-time low after announcing that several of its past financial reports are inaccurate.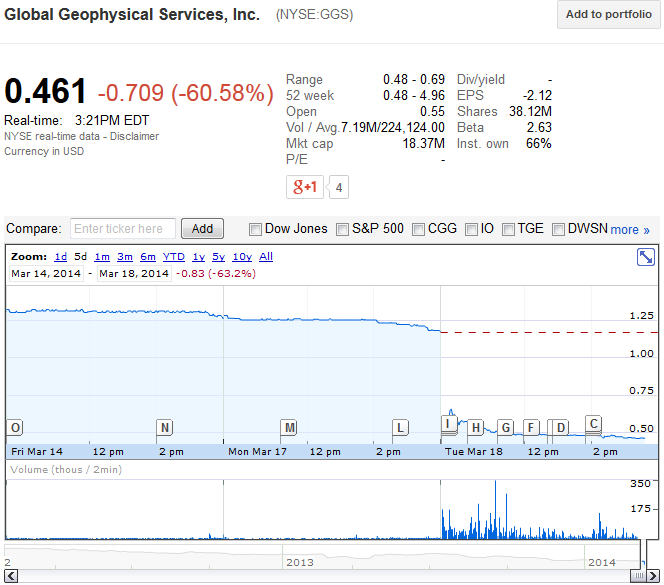 On Monday, the provider of seismic data to energy companies shocked with Q4 and full-year 2013 earnings. In it the company stated its financial reports and related auditors' reports for each of the fiscal years ended Dec. 31, 2012, 2011, 2010, and 2009, plus the first, second, and third quarters of 2013, "should no longer be relied upon because of accounting errors resulting from material weaknesses in the company's internal controls."
GGS said it will use an independent auditor to conduct a thorough review of past reports and intends to restate its consolidated financial statements from 2011 onward. Management is devising a plan to remediate internal "material weaknesses," and the company will delay filing a 2013 annual report.
Based on preliminary, unaudited information, Global Geophysical estimates its restatements on revenue for the years ended Dec. 31, 2012 and 2011 will show an increase of $4.7 million and decrease of $4.8 million, respectively.
For the three months ended March 31, June 30, and Sept. 30, 2013, the company estimates its restatements on revenue will show an increase of $0.4 million, decrease of $0.7 million, and decrease of $5 million, respectively.
As far as its fourth-quarter and full-year results reported yesterday, GGS said it was able to release certain preliminary and unaudited financials (that will still be subject to finalization in connection to the restatements it will release).
Fourth-quarter revenue came in at approximately $81 million, beating the Capital IQ consensus estimate of $75.6 million. For the full year 2013, revenue came in at $292.5 million, compared to full year 2012 revenues of $343.7 million.
Note: Turn market volatility into profits by learning to trade the market's most powerful index. Here's how...
Besides the glaring accounting issues, GGS stock also suffered today from debt and liquidity numbers released with earnings.
Global Geophysical has $330.2 million in consolidated long-term debt as of Sept. 30, and a total available liquidity of $16.8 million.
"We expect investors to pay more attention to the highlighted liquidity issues," Raymond James analysts said to Reuters.
Prior to today's plunge, GGS stock was down 27.33% in 2014, and 58.95% from a year ago. Shares were priced at a dismal $0.46 per share today at market close.
NOW: This one biotech stock presents 18 ways for investors to make big money...
Related Articles: