Apple Inc. (Nasdaq: AAPL) is reportedly interested in acquiring Renesas SP Drivers, a Japanese chip maker whose products are designed to improve smartphone image display and preserve battery life.
Apple would pay approximately $482 million for a 55% stake in Renesas, a sum that would value the chip maker near $1 billion.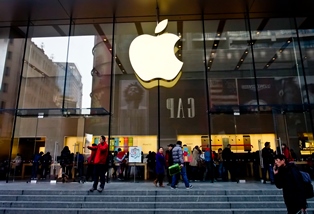 Renesas SP Drivers is the world's largest producer of the microchips that are used in liquid-crystal displays. That technology is common in small to midsized consumer electronic devices like smartphones and tablets. The company has about one-third of the industry's current market share.
The company's chips optimize the energy use of smartphone display screens, which extends the device's battery life. They are also known to improve the image quality on smartphones and tablets.
The Japanese semiconductor company Renesas Electronics Corp. owns the 55% stake in Renesas SP Drivers that Apple is interested in acquiring. The controlling company's stock trades on the Tokyo Stock Exchange and reached a three-year high today following the acquisition chatter.
The Japanese company Sharp Corp. and the Taiwanese company Powerchip Technology Corp. own the remaining 45% of the company.
According to Bloomberg, Renesas Electronics Corp. is trying to unload the SP Drivers division of its company as the corporation refocuses on its core auto business. According to sources close to the company, Renesas is in acquisition discussions with multiple companies.    
Apple has not commented publicly on the acquisition rumors.
Apple's possible acquisition of Renesas SP Drivers is clearly tied to its smartphone and tablet business, but improving display quality and battery life isn't the only reason why Apple wants Renesas...
Why Apple (Nasdaq: AAPL) Wants Renesas
By purchasing the 55% stake in Renesas SP, Apple would control all of the company's display-chip technologies. That would lead to improved battery life and image quality on the iPhone and iPad.
Apple works with numerous outside companies for the different parts of its devices. With the acquisition, Renesas could become the de facto "display unit" for Apple.
As Apple works toward its newest smartphone, the highly anticipated iPhone 6, many expect the device to come with a larger 5.5-inch display screen. That makes Renesas' battery-preserving display chips critical to Apple. The last thing the Cupertino, Calif., company needs is battery life issues surrounding the launch of the iPhone 6.
"For the iPhone to maintain its premium image, it has to keep pushing its technology forward, especially in displays," Sanford C. Bernstein Analyst Mark Newman told The Wall Street Journal.
While improving the display quality of the iPhone is critical to keeping customers happy, there's another major benefit to this acquisition...