It looks like we have a food fight on Wall Street.
In a move that derails Hillshire Brands Co. (NYSE: HSH) simmering $4.3 billion takeover of Pinnacle Foods Inc. (NYSE: PF), Pilgrim's Pride Corp. (Nasdaq: PPC) offered on Tuesday to pay $6.4 billion in cash for Hillshire Brands.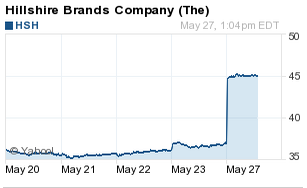 HSH stock surged more than 22% to a 52-week high of $45.52 on the news. Pinnacle shares, meanwhile, sank some 7% to $30.87.
Under terms of the bid, Pilgrim's Pride and its controlling owner, Brazilian meat giant JBS, will pay $45 for each Hillshire share. That's about a 22% premium to the sausage maker's closing price on Friday.
Pilgrim's Pride approached Hillshire about a potential deal in February, but was rebuffed. When it learned of the Pinnacle transaction announced earlier this month, it decided to come forward with an unsolicited bid. "It has always been our desire to acquire the company," Pilgrim's Pride said in a statement.
Behind the unsolicited offer is a clause in the Pinnacle transaction that allows Hillshire's board to weigh a reasonable takeover bid for their company that leads to a superior outcome for shareholders.
Indeed, following news on May 12 that Hillshire was acquiring Pinnacle, Hillshire shares shed more than 6% to $34.22. Analysts had been speculating, and shareholders had been hoping, Hillshire would be taken over in a sizable deal - perhaps by Hormel Foods Corp. (NYSE: HRL) - instead of being the one buying.
Moreover, Moody's Investors Services said it's reviewing Hillshire for a downgrade. Currently rated Baa2 by Moody's, two notches above junk status, a purchase of Pinnacle could push Hillshire's rating below investment grade.
A number of Hillshire investors have argued the Hillshire/Pinnacle transaction doesn't provide enough value and plan to vote against the acquisition.
But all could change with the Pilgrim deal...
Why Pilgrim's Pride Wants Hillshire (HSH)
Pilgrim's Pride believes Hillshire shareholders will prefer a transaction by one of the country's biggest poultry producers over a highly criticized acquisition of brands like Duncan Hines cake mixes and Bird's Eye frozen vegetables.
Key benefits of a Pilgrim's/Hillshire tie-up are: