A specific group of micro-cap stocks secured a big victory last month, as the Russell Microcap Index boosted its holdings in the sector during its yearly reconstitution.
The Russell Microcap Index is a weighted index of the smallest 1,000 companies in the Russell 2000 (by market capitalization), plus the next smallest 1,000 U.S.-based listed stocks. As market caps change from year to year, companies are added to and deleted from the Russell indexes.
The Russell indexes also weigh sectors by their share of capitalization in the marketplace. Every year in June, Russell Investments rebalances its equity indexes to better represent each sector's influence in the market.
Due to the past year's rally in biotech - the ProShares Ultra Nasdaq Biotechnology ETF (Nasdaq: BIB) is up 108.6% in the past year versus the S&P 500's 22.5% gain - healthcare stocks got 55 more spots on the Russell Microcap Index. Eighty healthcare companies were added to the index, but 25 removed. This compares to sectors like financial services, which added 51 companies but lost 72 for a net loss of 21.
This means these stocks are about to see a huge cash influx...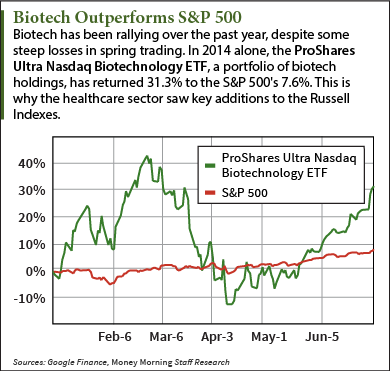 According to Money Morning's Small-Cap Investing Specialist Sid Riggs, many institutional investors are guided by a prospectus that compels them to devote a percentage of their investments into micro-cap markets. They'll be eyeing these healthcare companies for their small-cap portfolios.
"If a company gets reconstituted, then it's going to be on the radar of the mutual funds," Riggs said. "It can add tailwind to a company because they get institutional support."
That's roughly $800 billion of assets under management in funds that track Russell indexes, and another $5.2 trillion in assets that use the indexes as a benchmark, that could find its way into these micro-cap healthcare stocks.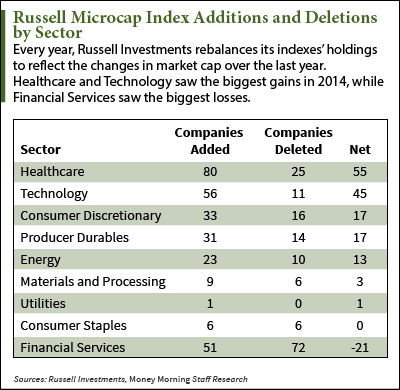 This inclusion in the leading index for micro-cap stocks is yet another catalyst for healthcare stocks, which can provide a great opportunity for massive gains in the short term. Biotech and pharmaceutical companies idle along as they conduct research and attempt to clear the U.S. Food and Drug Administration's regulatory hurdles - but once they reveal a new treatment or progress on clinical trials, the stock takes off.
"That's what they do; they languish in sideways trading while they're in these FDA trials," Riggs said. "Then when there's a big announcement...Boom!"
The Russell Microcap Index has taken note of some big winners, with these five additions seeing the greatest growth since the beginning of the year.