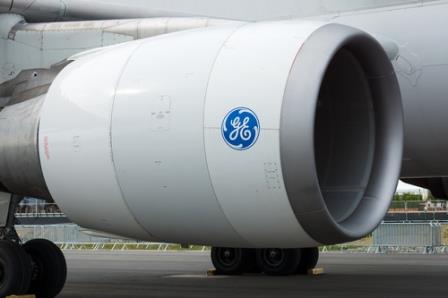 On Friday morning, General Electric Co. (NYSE: GE) met Wall Street expectations when it reported second quarter earnings ahead of the bell, sending GE stock up 1% in pre-market trading.
The largest industrial company in the United States revealed adjusted diluted quarterly earnings per share (EPS) of $0.39 on revenue of $36.23 billion, matching consensus projections for EPS of $0.39 on revenue of $36.3 billion. The numbers were up 8% and 3% respectively, compared to the same quarter a year ago, when GE reported EPS of $0.36 on revenue of $35.06 billion.
There were two notable takeaways from GE's earnings today.
First, GE reported a 13% increase in quarterly net profits. The company cited improved sales of its jet engines, and oil and gas equipment.
"GE had a good performance in the quarter and in the first half of 2014, with double-digit industrial segment profit growth... and nearly $6 billion returned to shareholders," GE Chairman and Chief Executive Officer Jeff Immelt said in a statement accompanying earnings today. "The environment continues to be generally positive."
The second big takeaway today was GE's confirmation that it will target the initial public offering (IPO) of its North American retail financing unit - Synchrony Financial - for the end of July.
GE announced its IPO filing on March 13. Synchrony Financial supplies retail credit cards and reportedly makes credit card loans to more than 55 million American consumers.
According to analysts at Bernstein Research, the Synchrony IPO could be valued between $18 billion and $20 billion. The company will trade on the New York Stock Exchange under the ticker "SYF." For comparison, Discover Financial Services (NYSE: DFS) will be one of Synchrony's largest competitors and has a market cap of $28 billion.
Back in November, GE announced that it would sell 20% of Synchrony in the IPO. The rest of the stock is to be dispersed to GE shareholders.
GE's distancing from dependence on its finance operations, "GE Capital," is further solidified by its purchase of French industrial corporation Alstrom last month for $13.5 billion. GE said it's on target to reduce the share of its earnings that come from GE Capital to 25% by 2016. According to The New York Times, before the financial crisis, the finance unit routinely accounted for more than half its earnings.
"G.E. is right in the middle of making major changes, remaking its portfolio," said Steven Winoker, an analyst at Bernstein Research.
Money Morning Chief Investment Strategist Keith Fitz-Gerald took a pragmatic look at GE's investment potential.
"I think GE is very rich and the real question here is whether or not the ongoing restructuring is working as evident by what comes to the bottom line," Fitz-Gerald said. "Return on equity has been lower than its peer group, and that has to change if GE stock wants to break out."
Here's where our experts see GE stock going based on "three powerful catalysts" - you don't want to miss this breakdown...