This is not a misprint: Puma Biotechnology Inc. (NYSE: PBYI) stock surged nearly 300%, or $176.63, to an all-time high of $234.99 intraday Wednesday.
Sending shares of Puma soaring was the company's announcement late Tuesday that its investigational breast-cancer treatment met its main goal in a late-stage phase 3 trial.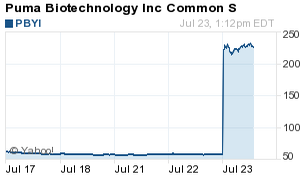 Some 4.41 million shares changed hands within the first hour of trading, compared to the stock's average daily volume of 411,453 shares.
With 1,699,005 shares sold short (betting the stock would decline), a chunk of today's volume no doubt came from short sellers racing to cover positions.
PBYI's stratospheric stock rise turned the development stage biopharmaceutical firm, with $1.78 billion market cap, into a $7 billion company overnight. Founded in 2010 and based in Los Angeles, Puma doesn't have a single drug yet on the market.
But that's likely to change now...
Potential for Puma (PBYI) Stock
Puma stock looks good now for a couple of reasons...
The results from Puma's investigational treatment were met with such an overwhelmingly optimistic response because they address HER2-positive breast cancers.
HER2-positive breast cancer is characterized by aggressive growth and a poor prognosis. It is also less responsive to hormone treatment than other cancers are.
In Puma's study, patients with HER2-positive breast cancer were either given the treatment, called neratinib, or a placebo for one year after surgery and treatment with trastuzumab (Herceptin). The 2,821 patients in 41 countries were then followed for two years.
Patients treated with neratinib showed a 33% improvement in disease-free survival over a placebo. Disease-free survival refers to the interim a patient remains alive and free of signs of the illness.
Based on the significantly positive outcomes, Puma will apply for U.S. regulatory approval in the first half of next year.
Neratinib is also being researched as a treatment for patients with non-small cell lung cancer and other solid tumors that have a HER2 mutation.
Analyst upgrades on PBYI followed the promising trial results.