Silver prices are down today, rounding out a month where the white metal has slid 3.1%.
Comex silver futures for September delivery had sunk to $20.41 on the day by 4:05 p.m. EDT, making for a 1.9% loss so far on the week. New York spot silver was down to $20.37 when markets closed today (Thursday), for a 1.7% loss in the same period.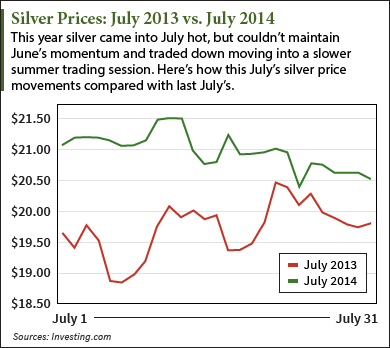 The iShares Silver Trust (NYSE Arca: SLV), an ETF linked closely with the price of silver that holds physical bullion in JPMorgan Chase & Co. (NYSE: JPM) vaults in New York and London, also closed the day at a 1.6% weekly loss. ETFS Physical Silver Shares (NYSE Arca: SIVR), a close alternative to SLV, closed down with the slightest losses, sliding just 1.1% on the week.
Silver's more than 3% drop this July compares with last year's minor 0.8% gain, when silver prices advanced from $19.63 to $19.79.
This month-long slide was mostly rooted in natural market processes, given that silver came into July riding a five-week buying spree that eventually extended into a six-week rally. By the end of this sprint, it had gained more than 14%. Traders wanted to lock in these gains as silver touched on three-month highs.
"I have to say that I do think this is simply the market's healthy process of profit taking," said Money Morning Resource Specialist Peter Krauth. "It had a good run lately."
Going into the sixth week, there were some signs that summer trading, which is historically weak and generally keeps silver from making big gains, was beginning to settle in. But near the end of that week on July 10, Portugal's largest lender, Banco Espírito Santo SA (BES) and its parent company suspended shares after suffering steep losses. These losses stemmed from fears that the financial troubles of Espirito Santo International SA - the parent company that missed payments to some investors holding short-term commercial paper - would trickle down to BES.
This sent silver up 1.7% on the day, topping out its bullish run at a $21.47 close. It has all been downhill from there.
Silver's Bull Run Comes to an End
When the next week opened up on July 14, silver began its descent. 
Because silver is seen as a vehicle to preserve wealth, it tends to get a boost when there are hiccups in the global economy and investors look to it as a hedge. But it also will lose value when there is renewed confidence in the economy.
When BES brought in new management that Monday, it calmed investor fears over the health of the Portuguese banking system, and all of the 1.4% gains from the week before were erased in one day.
On this news, investors began "backing away from the view that the Portuguese bank problems represented a serious threat to the European banking system as a whole," managing partner at CPM Group Jeffrey Christian wrote in an email to Money Morning. "Perhaps investors had a weekend to let the news sift through their brains, and realized the sky wasn't falling?"
While turmoil on foreign soil, headlined by the downing of a Malaysian passenger aircraft in Ukraine and the Israeli invasion of the Gaza Strip, provided slight lifts to silver, it tumbled last Thursday 2.5% to $20.42. This plunge was precipitated by positive economic news out of the Eurozone, and an optimistic U.S. jobs report that showed weekly unemployment claims were at their lowest levels in more than eight years.
The day after, however, silver recovered a lot of those losses when the broader markets took a dive. The Dow Jones Industrial Average dropped 123.23 points, the Standard & Poor's 500 lost 9.64, and the Nasdaq fell 22.55. Silver will oftentimes get a boost as an alternative investment when equities falter.
Silver has been up-and-down this week, but largely trading within a small window. It has moved up on failed ceasefire talks in Gaza and new E.U. and U.S.-sponsored sanctions on Russia for its supporting of rebels in Ukraine, but only momentarily before ultimately trending downward.
Yesterday, the U.S. Federal Reserve released a statement following its Federal Open Market Committee (FOMC) meeting, which reaffirmed the central bank's intent to pursue a policy of low interest rates for a "considerable" time. Inflation-minded investors, fearing that a prolonged period of low rates could spark an increase in prices, moved into silver as a store of value against the potentially weakening dollar, pushing futures up $0.06 on the day.
Silver is down around 3% on the month going into August, still not a cause for concern.
"In the grand scheme, not a very big deal, as that's less than 5%," Krauth said.
More on Silver: This week is a busy one for earnings releases, and mining companies are no exception. Keep up-to-date on these four major silver stocks and see what their second quarter performance could mean for the white metal...