Silver prices are down today, rounding out a month where the white metal has slid 3.1%.
Comex silver futures for September delivery had sunk to $20.41 on the day by 4:05 p.m. EDT, making for a 1.9% loss so far on the week. New York spot silver was down to $20.37 when markets closed today (Thursday), for a 1.7% loss in the same period.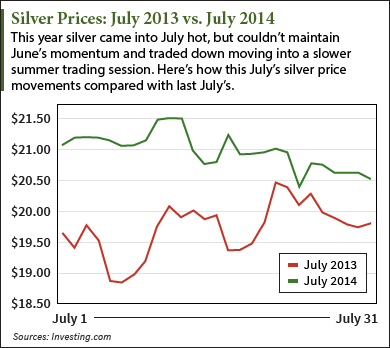 The iShares Silver Trust (NYSE Arca: SLV), an ETF linked closely with the price of silver that holds physical bullion in JPMorgan Chase & Co. (NYSE: JPM) vaults in New York and London, also closed the day at a 1.6% weekly loss. ETFS Physical Silver Shares (NYSE Arca: SIVR), a close alternative to SLV, closed down with the slightest losses, sliding just 1.1% on the week.
Silver's more than 3% drop this July compares with last year's minor 0.8% gain, when silver prices advanced from $19.63 to $19.79.
This month-long slide was mostly rooted in natural market processes, given that silver came into July riding a five-week buying spree that eventually extended into a six-week rally. By the end of this sprint, it had gained more than 14%. Traders wanted to lock in these gains as silver touched on three-month highs.
"I have to say that I do think this is simply the market's healthy process of profit taking," said Money Morning Resource Specialist Peter Krauth. "It had a good run lately."
Going into the sixth week, there were some signs that summer trading, which is historically weak and generally keeps silver from making big gains, was beginning to settle in. But near the end of that week on July 10, Portugal's largest lender, Banco Espírito Santo SA (BES) and its parent company suspended shares after suffering steep losses. These losses stemmed from fears that the financial troubles of Espirito Santo International SA – the parent company that missed payments to some investors holding short-term commercial paper – would trickle down to BES.
This sent silver up 1.7% on the day, topping out its bullish run at a $21.47 close. It has all been downhill from there.
Silver's Bull Run Comes to an End
When the next week opened up on July 14, silver began its descent.