Tesla Motors Inc. (Nasdaq: TSLA) stock was up 3% in after-hours trading today (Thursday) after the company reported second-quarter earnings per share (EPS) of $0.11 on revenue of $857.5 million.
Those figures crushed consensus estimates of $0.04 on revenue of $810.6 million. Last year, the company reported Q2 earnings of $0.20 per share.
Those are the headlines from today's report, but these are the most important updates...
The Most Important Figures in Tesla Earnings Report
One of the biggest announcements from Tesla today was that it broke ground in June on a location outside Reno, Nev., on a site that could potentially house the Tesla Gigafactory. However, the company said that this is not necessarily the final location and it is still looking at locations in Arizona, California, New Mexico, and Texas. 
Chief Executive Officer Elon Musk has stated that he would like to begin construction on the plant by the end of the year.
When it comes to vehicle deliveries, 7,579 vehicles were delivered during the quarter. That's an increase of 17% from last quarter. The company said that it plans to deliver another 9,000 vehicles in the third quarter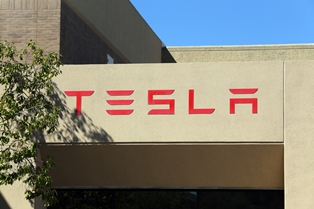 Earlier in the year, Musk set a delivery goal of 35,000 vehicles total for 2014. The company reiterated today that it's on track to reach that goal.
The fact that they're on track to reach that 35,000 goal is very encouraging according to Money Morning's Defense and Tech Specialist Michael Robinson.
"They don't need to hit that figure exactly, but I want to see that they're on track," Robinson said before the report was released.
Another bright spot for shareholders is Tesla's production totals. Previously, Musk said he wants to reach weekly production of 1,000 vehicles by the end of 2014, and the company appears on track for that number.
"[W]e set a new record for vehicles produced this quarter, which came in tandem with substantial efforts underway to increase the factory's capacity," the company said. "Factory production reached 8,763 Model S vehicles during the quarter, up 16% from Q1. Recently, we have been producing about 800 cars per week."
Another area that Robinson has been watching is the expansion of the company's "supercharger" network in Europe and the rest of the world.
"I want to see how they stand on their relationship to Europe and their superchargers," Robinson said. "The market has become very green-centric in Europe. The EU is focusing on renewables and this is a big opportunity for them."
"We also continue to expand our supercharging network, with the introduction of our  superchargers in Canada and a substantial increase in the rate of deployment in Europe and China," the company said. "Globally, we just energized our 156th supercharger, which makes our network both the largest and the most rapidly growing fast-charging network in the world."
Following today's Tesla earnings report, here's the best way to play TSLA stock now...
How to Play TSLA Stock After Tesla Earnings
TSLA has been very volatile in 2014. Year to date, TSLA is up nearly 49%, but that hasn't been a smooth gain. From early March through early May, TSLA stock dipped more than 27%. In July, TSLA is down almost 7%.
Based on that volatility, TSLA is still not a short-term play at the moment. However, the innovation of the company and its visionary CEO, Elon Musk, make this a great long-term stock for investors looking for an aggressive play.
Both Robinson and Money Morning's Chief Investment Strategist Keith Fitz-Gerald find the long-term potential of TSLA stock intriguing.
"Tesla has enormous long-term potential. After the supercharger technology is in place and built up, it's a much more marketable car," Robinson said. "The best way to play the stock is for the long-haul. Musk is really a great visionary."
"I think Elon Musk is one of the most dynamic CEOs on the planet, and I believe he has the potential to make Tesla a $1,000 stock within the decade," Fitz-Gerald said.
Today's Top Story: The fourth iteration of the Central Bank Gold Agreement (CBGA) has just been signed. But the real story isn't that the deal was signed, it's who hasn't signed... and what they're doing with their gold...