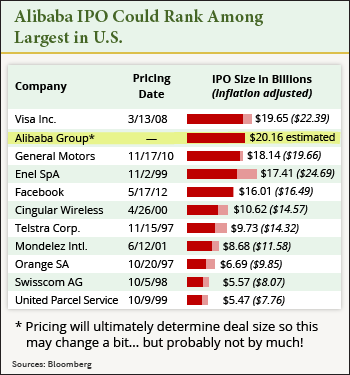 The Alibaba IPO price has been climbing since talks of the initial public offering first gained traction in 2013.
In December, most analysts thought it could rival the $16 billion Facebook Inc. (Nasdaq: FB) offering for largest tech IPO in U.S. history.
Today, consensus estimates place the Alibaba IPO price closer to $20 billion. That would make it the largest U.S. IPO in history, surpassing the $19.65 billion Visa Inc. (NYSE: V) raised in its 2008 initial public offering.
The company's valuation has been growing, too. According to a recent survey of analysts by Bloomberg, Alibaba was valued at $154 billion. In 2013, consensus estimates had the company valued at $63 billion.
The growth figures may be huge, but they are justified for several reasons. Chief among them is China's burgeoning e-commerce industry...
E-Commerce in China Is Exploding
Last year, China supplanted the United States to become the largest e-commerce market in the world.
"Online-shopping spending in China reached $298 billion last year, easily surpassing U.S. sales of $263 billion," Money Morning's Executive Editor Bill Patalon said. "According to German research firm yStats, China's consumer e-commerce market soared more than 60% in 2013."
The impact of the market was felt last Nov. 11, a day in China known as "Singles' Day." It's a holiday where single men and women shower themselves and each other with gifts. On that one day alone, more than $5.7 billion exchanged hands over Alibaba's two main sites.
And those e-commerce growth figures should only continue higher...
"Alibaba is the dominant e-commerce player in a marketplace - China - that's seeing incredible growth in online commerce," Patalon said. "According to the research I've seen, e-commerce in China is projected to hit $540 billion by 2015, and that's just for starters. By 2020, China's e-commerce market will be worth more than the United States, the United Kingdom, Japan, Germany, and France combined. So we know that growth is coming... and we know that Alibaba is the No. 1 gun."
"Despite that torrid growth, China is still very much an online market in development - meaning the profit opportunities are huge," Patalon said. "For instance, the impact of social media in China is four times what it is here in the U.S. market."
But it's not just e-commerce that's growing in China, it's the entire Internet industry of the country...
More Chinese Internet Users Than U.S. Citizens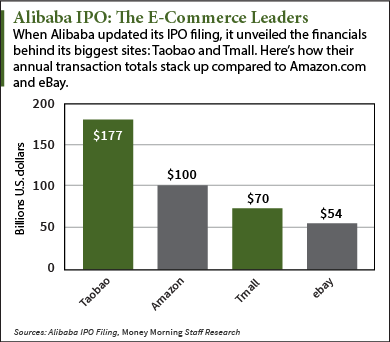 "The number of consumers and business folks connected to the Internet in China - whether you're talking about computers, tablets, or smartphones - is bigger than the entire U.S. population," Patalon said. "And the government there is actually pushing growth. Beijing has mandated that 1.2 million folks - 85% of its population - will have broadband connections (3G or 4G) by 2020."
When looking at growth figures like that, it's clear to see where the huge valuations and Alibaba IPO estimates come from. The company dominates the e-commerce industry in China, with nearly 80% of all online transactions in the country taking place over its network of sites.
In 2013, Alibaba's most popular site, Taobao, handled $177 billion in transactions. Approximately $70 billion exchanged hands over Alibaba's second largest site, Tmall, during the same time. That compares to Amazon.com Inc.'s (Nasdaq: AMZN) $100 million and eBay Inc.'s (Nasdaq: EBAY) $54 billion in the same time period.
The Alibaba IPO date is expected to be set for some time in December. According to the company, it will wait until after Labor Day (Sept. 1) to hold the initial public offering.
But you don't have to wait until the Alibaba IPO date to begin playing this IPO. You can profit now. The best news about this looming IPO is that it has created a major profit opportunity that most investors haven't yet noticed... It's happening now, weeks before Alibaba hits the market...
In fact, this could be your one and only chance to make the kind of gains normally reserved for the high-net-worth investors and bankers. And there are three ways to play. You can learn more about this Alibaba profit opportunity here.
Join the conversation on Twitter @moneymorning and @KyleAndersonMM using #Alibaba.
[epom]