Tekmira Pharmaceuticals Corp. (Nasdaq: TKMR) stock surged some 20% to $17.23 Friday after an update on its Ebola treatment.
The U.S. Food and Drug Administration modified its clinical hold status on its experimental Ebola treatment to partial hold, enabling it for potential use in humans infected with the virus.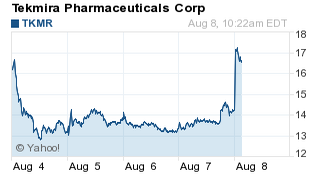 TKMR stock was halted late Thursday ahead of the news. The stock was up 6.65% on volume of 2.1 million shares in Thursday's regular session, and soared another 6.87% to $15.25 after hours.
"We are pleased that the FDA has considered the risk-reward of TKM-Ebola for infected patients," Dr. Mark Murray, Tekmira's chief executive officer and president said in a statement. "We have been closely watching the Ebola virus outbreak and its consequences, and we are willing to assist with any responsible use of TKM-Ebola. The foresight shown by the FDA removes one potential roadblock to doing so. This current outbreak underscores the critical need for effective therapeutic agents to treat the Ebola virus. We recognize the heightened urgency of this situation, and are carefully evaluating options for use of our investigational drug within accepted clinical and regulatory protocols."
Tekmira stock jumped 40% last week as the worst-ever Ebola outbreak accelerated. Investors piled in even as human tests of TKM-Ebola were put on hold last month due to safety concerns.
TKMR stock, however, swooned Monday after CNN reported two ailing American missionary workers suffering with Ebola were treated, with some success, by an investigational drug from a competing biotech company: privately held Mapp Biopharmaceuticals.
Yet amid the recent Ebola outbreak, which has sickened 1,700 and killed nearly 1,000 people in West Africa, the race is on to find a treatment. And Tekimira's TKM-Ebola does show promise.
Presently, no approved treatment or vaccine for Ebola exists. There is not even one that has passed the first phase of safety trials in human volunteers.