July retail sales data released today (Wednesday) was flat, suggesting the U.S. economy's third quarter will be weaker than expected.
The dismal July read was the weakest since January.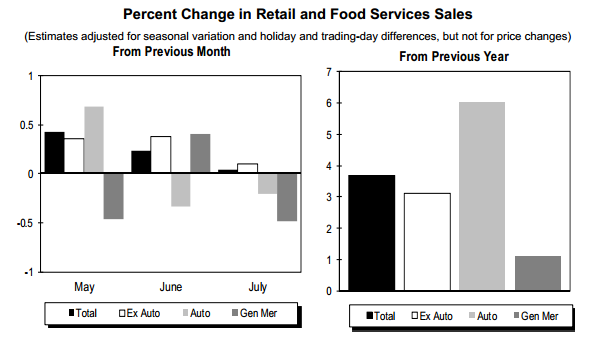 After a modest 0.2% gain in June, today's report from the U.S. Department of Commerce revealed U.S. retail sales remained stagnant last month, dragged downed by tepid sales of furniture, electronics, and appliances. And, for the second consecutive month, auto sales slipped in July.
Excluding autos, retail sales rose 0.1% in July, missing forecasts that called for growth to hold steady at 0.4%, in step with June's pace. June's core sales were revised to 0.5% in June, from the previously reported rise 0.6%.
Core sales, which strip out automobiles, gasoline, building materials, and food services, and correspond most closely with the consumer spending component of gross domestic product (GDP), ticked up 0.1% in July. That hints toward a moderation in consumer spending in this year's third quarter.
Auto dealership receipts dipped 0.2% in July after declining 0.3% in June. Sales at non-store retailers, which include online sales, slipped 0.1%
Sales at clothing retailers rose 0.4% and receipts at sporting goods shops gained 0.2%.
Sales at electronics and appliance stores fell 0.1%, while sales at building materials and garden equipment suppliers rose 0.2%
Why U.S. Retail Sales Data Matters
Retail sales are closely watched because they are a key gauge of the health of the economy. They account for a major share of consumer spending - the backbone of the U.S. economy.
Since the start of the year, retail-sales reports have been disappointing to lukewarm, pulled down by weak wage growth and wary consumers.
Recent job gains and a modestly improving housing market were expected to eventually spur a more confident consumer.
July's report, however, is evidence that consumers remain tight-fisted.
That's doesn't bode well for retailers as we enter a crucial time period for retailers: back to school sales followed by the make-or-break holiday season.