Now that Yahoo! Inc. (Nasdaq: YHOO) has sold most of its Alibaba stake, and cash-rich BABA just completed the biggest IPO of all time, will a major tech deal go down - as in, will Alibaba buy Yahoo?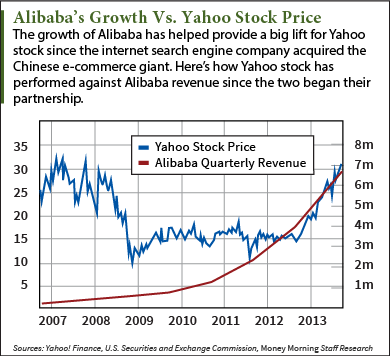 It could sure be a good deal for YHOO shareholders ...
Over the last few years, shareholders have watched as YHOO has struggled to turn its core business around, while most of its value as an investment came from its lucrative overseas holdings. YHOO's once 40% stake (now 16.3%) in Alibaba Group Holding Ltd. (NYSE: BABA) and its 35% stake in Yahoo! Japan were effectively providing the bulk of YHOO's earnings, but income from its own operations continued to sink.
"Absent the Alibaba investment, Yahoo as a stand-alone business is just about worthless," said Money Morning Chief Investment Strategist Keith Fitz-Gerald. "But that doesn't mean the company is worthless. The value infused by the Alibaba deal is a huge windfall for Yahoo shareholders and Yahoo management."
Per a 2012 repurchasing agreement, YHOO sold half its stake in BABA back to the Chinese e-commerce giant and negotiated a "proposed staged exit" that would wind down YHOO's investment in the company over a number of years. This boosted YHOO's cash hoard by about $2.8 billion and delivered $3.31 earnings-per-share (EPS) on the year, compared to 2011's $0.91 EPS.
YHOO shed another 140 million shares after the Alibaba IPO on Sept. 19, and has promised to deliver half of those proceeds to shareholders as well.
YHOO's remaining stake in BABA is worth $36 billion, and the key to YHOO's value at the moment is based almost entirely on the potential for this to grow before it is sold off and put back into YHOO's cash coffers.
But if YHOO wants to capitalize on the windfall in the best way possible and reward shareholders, its best bet is a sale to Alibaba and its Chief Executive Officer Jack Ma, who in 2011 said he was "very interested" in buying the company when YHOO was considering a sell-off.
But first, here are the tough decisions YHOO is going to have to make.