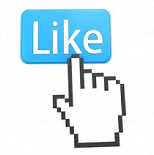 We've been saying it for months - invest in Facebook stock (Nasdaq: FB).
Money Morning Capital Wave Strategist Shah Gilani knew - even when FB slipped below $20 a share in late 2012 - that the company had tremendous promise.
That's why he pounced on the chance to buy Facebook stock in February after the company bought WhatsApp Inc. for $19 billion. On Feb. 21, Gilani told Money Morning readers that "Facebook is still in the initial phase of a big growth opportunity," and at roughly $69 a share it "may never be this cheap again."
Three and a half weeks later, Gilani stood by his bet after FB stock slid 14% since his recommendation. He called the slump a near-term correction, and reiterated that with an impressive mobile strategy, Facebook's future was bright.
On March 7, Money Morning Defense & Tech Specialist Michael A. Robinson echoed Gilani's positive outlook.
"Over the past three years, Facebook has grown its earnings per share by 32%. At that rate, earnings and the stock itself could double in less than 2.5 years," Robinson - a Silicon Valley expert who has been watching tech sector transitions for decades - told readers.
The rest is history. Facebook stock's gone up more than 47% in 2014. Roughly 35% of the gains happened in the last five months.
And three details in Facebook's third-quarter earnings, released after closing bell today (Tuesday), go to show that this is a social media stock with room to go even higher...
3 Details from Today's Earnings That Prove FB Stock Is Still on the Rise
Facebook topped Wall Street expectations with earnings per share (EPS) of $0.43, compared to projections of $0.40 a share. Revenue was also a beat, coming in at $3.2 billion versus expectations of $3.12 billion. That's a sizeable top line."This has been a good quarter with strong results," Facebook Founder and Chief Executive Officer Mark Zuckerberg said in a statement. "We continue to focus on serving our community well and continue to invest in connecting the world over the next decade."
Monthly active users (MAUs) - the lifeblood of social media companies - grew 14% to 1.35 billion. Mobile monthly active users came in at 1.12 billion, and daily active users at 864 million. The world's largest social media company...is getting even larger.