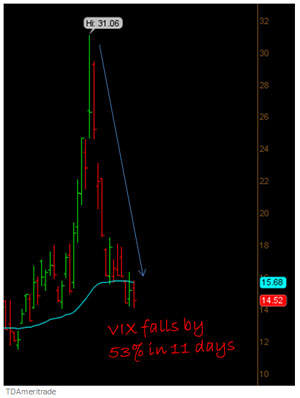 The VIX (Volatility Index) has dominated financial news over the past month.
It made headlines when it closed at a two-year high of 26.3 on Oct. 15. In that same trading session, it went from a low of 16.09 to an intraday peak of 31.06 – the highest level since 2011.
Then the VIX grabbed attention for tumbling back down. As of yesterday (Tuesday), the VIX has backed off 53% from its October record.
But exactly what is the VIX, and why is it important for investors to understand?
Here's a VIX breakdown for Money Morning readers…
What Is the VIX?
VIX is the ticker symbol for the Chicago Board Options Exchange (CBOE) Volatility Index. The CBOE's index is a way to measure traders' expectations of stock market volatility over the next 30 days.
To do this it tracks S&P 500 options activity. The index's readings are calculated using a formula that accounts for near- and next-term put and call options on the S&P.
Money Morning Chief Investment Strategist Keith Fitz-Gerald, a 33-year seasoned market analyst and professional trader, recently told his Total Wealth research service subscribers how to interpret VIX readings: "A VIX reading of 15 means that traders believe the S&P 500 will move by less than 15%/√12, or 4.33%, over the next 30 days," Fitz-Gerald said. "The VIX is always expressed in percentage points based on a single standard deviation move, which is 68%, give or take, if you remember your high school statistics classes."
Last month when the VIX hit 26.3, that meant traders believed the S&P 500 would move by about 7.6% (26.3%/√12 = 7.6%) over the next 30 days. The high reading shows that traders anticipated market volatility ahead. The reason? Ebola virus fears were causing big moves – down and then up – in the S&P.
That's why the VIX is popularly called "the fear gauge" or "the fear index." Bigger bets on volatility are usually tied to panic in the markets.
History underscores the moniker. Some of the VIX's highest levels were reached in times of stock market crises. It shot up when the dot-com bubble burst in 2001, when derivatives imploded in 2008, and during the European debt crisis in 2010.