The term "Santa Claus Rally" refers to a seasonal bump in stock prices over the last week of the year - specifically, the last five trading days of December, and the first two of January. This year it falls from Dec. 24 to Jan. 5.
While the name may seem hokey, the phenomenon is real.
In fact, the Dow has seen a Santa Claus Rally more than 77% of the time since 1896. Over that 117-year span, the Dow Jones Industrial Average has gained an average of 1.7% during that week.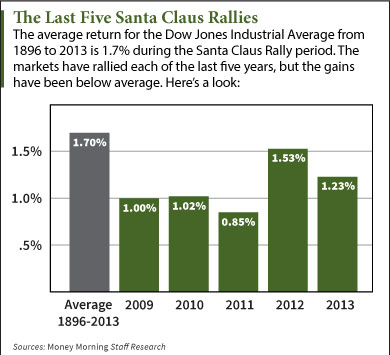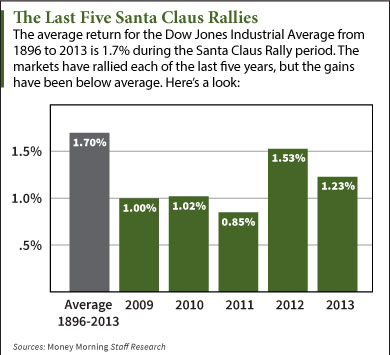 And it isn't just the Dow that sees a bump. Since 1929, the S&P 500 Index has averaged a gain of almost 1.8%. In those 84 years, stocks have risen nearly 80% of the time.
There are several reasons for the Santa Claus Rally. Frequently, an influx of cash enters the market as people invest their year-end bonuses. Others invest with year-end tax considerations in mind. Some attribute the bump to a happier mood on Wall Street during the holiday season - cheery traders tend to buy more.
So, will there be a Santa Claus Rally in 2014?
Money Morning's Capital Wave Strategist Shah Gilani - a 30-year veteran of the market - said investors can expect stocks to rise before 2015, but not for the same reasons we typically see a Santa Claus rally...
2014: Not Your Typical Santa Claus Rally
According to Gilani, there's a simple reason why the markets will continue higher into 2015.