Eurozone Financial News: The euro is falling.
So much so that today (Tuesday) it's trading at lows not seen since 2006.
It did gain somewhat as the day wore on. But in the morning, the euro hit a low of $1.1885.
This is just the latest in a prolonged downtrend that set in the second half of last year. After topping out at $1.3934 in March 2014, the euro has fallen nearly 15%.
Here's what has been moving the euro today...
Eurozone QE Looks More Likely in 2015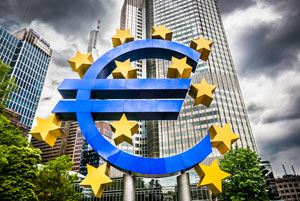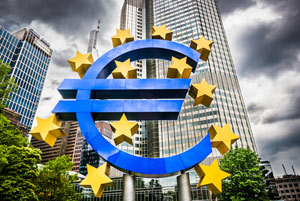 The euro has been falling for most of 2014. What brought it to today's low was ultimately the specter of Eurozone quantitative easing.
European Central Bank President Mario Draghi has repeatedly floated the idea of a large-scale sovereign bond-buying program to spur growth and stave off deflation. This form of Eurozone QE could pump as much as one trillion euros into the European economy.
The ECB has, to this point, pursued QE-like policies - but not full-blown QE.
This included raising funds from stronger Eurozone countries to finance government debt purchases. The central bank has also purchased asset-backed securities - much like the U.S. Federal Reserve did in its QE programs.
But neither move is QE.
Past government bond purchases were financed by Eurozone funds raised through ECB programs, not "money printing." And asset purchases do little for the Eurozone because its financial system is hardly as deep or complex as the United States'.
Full-blown QE is the last monetary policy weapon for Draghi. And its future looks all but certain.
But it's not without its hurdles. QE currently faces opposition from the inflation-averse Germans.
And the European Union prohibits directly financing a country's debt. Legal challenges are sure to arise, and already have for past bond-buying programs.
But Draghi seems more than willing to revise EU treaties. His pledges to do "whatever it takes" to save the Eurozone have speculators shorting the currency, looking to get ahead of what seems like inevitable, QE-fueled euro devaluation.
The series of roadblocks Draghi faces on his way to QE only prolong the euro's fall.
That's the main catalyst, but there are other factors that magnify this decline...