Healthcare deals dominated the top financial news headlines Monday.
Healthcare was the most targeted sector in deal making last year. It reached its highest annual volume on record as early as Dec. 1 with $437.1 billion in deals.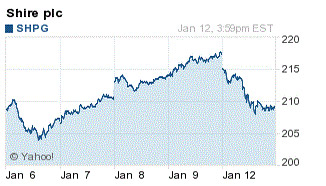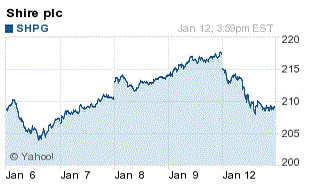 And 2015 has started with a flurry of activity. Indeed, three of the four healthcare deals announced Monday were for $1 billion or more.
What drove pharmaceutical and healthcare deals in 2014 continues to be the catalyst this year:  Drug makers are searching for fresh sources of growth as patents expire on many of their most lucrative drugs.
Two other factors driving M&A are heightened competition and tax inversion benefits.
Here's a look at the sector's deal making that topped today's financial news headlines...
Financial News: Monday's Top Deals
Top Financial Deal News No. 1: Shire Plc. (Nasdaq ADR: SHPG) agreed to acquire N.J.-based NPS Pharmaceuticals Inc. (Nasdaq: NPSP) for $46 per share.
The $5.2 billion all-cash deal gives Ireland-based Shire a rich portfolio of drugs to treat rare conditions. In addition, it shores up the Irish drugmaker's portfolio of therapies for gastrointestinal disorders.
"It is another step in the direction of becoming a biotech," Shire Chief Executive Officer (CEO) Flemming Ornskov said in a statement. Ornskov said combining NPS's two drugs with Shire's existing sales force could ultimately lead to blockbuster sales for both NPS's approved treatment.
The deal is expected to close in Q1 2015.
The transaction is Shire's first big deal since AbbVie Inc.'s (NYSE: ABBV) failed attempts to buy Shire in October amid the Obama administration's crackdown on tax inversions. Shire walked away from the failed deal with a $1.6 billon break-up fee.
Shares of NPS rose 8.5% to $45.50. Shire's shares slipped 1.75% to $213.69.