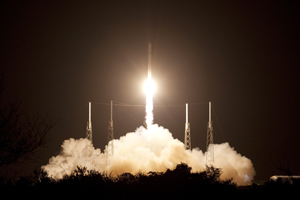 Updated Jan. 21, 2015: An exciting Google-SpaceX partnership was formed Tuesday evening. Together, the visionary companies will attempt to bring the remaining two-thirds of the globe online...
You see, more than 60% of the world's population is still offline, according to a September 2014 study by McKinsey & Co.
Google Inc. (Nasdaq: GOOG, GOOGL) has long sought to make Internet connectivity accessible on a global scale.
It started Project Loon in 2013 to launch high-altitude helium balloons that beam down Wi-Fi to hard-to-reach locations. And last year, it acquired dronemaker Titan Aerospace for $60 million. The companies are now testing solar-powered drones to increase Internet access.
After a day of rumors, the Internet giant and Fidelity confirmed a $1 billion investment in Elon Musk's SpaceX around 5 p.m. ET Tuesday. A source close to the deal said Google valued SpaceX north of $10 billion.
Here's why Google teamed with SpaceX to make the World Wide Web truly worldwide...
Google-SpaceX: A Match Made in Heaven
At the TED conference last year, Google cofounder Larry Page stated he thought leaving his fortune to Elon Musk in his will would be a better use of it than giving it to any charity.
It's no wonder Musk has earned Page's admiration. Musk - a visionary who also founded Tesla Motors Inc. (Nasdaq: TSLA) and cofounded PayPal Inc. - has far-reaching plans for SpaceX. He wants to drive down the cost of spaceflight, and colonize Mars within the next 12 years.
And Musk's track record of execution is no joke. In the 13 years since its founding, SpaceX has already revolutionized space exploration.
In December 2010, SpaceX became the first private company to put a spacecraft in orbit, and then successfully return the craft to earth.
In May 2012, its Dragon spacecraft latched onto the International Space Station, exchanged cargo, and returned to earth - a feat previously only accomplished by governments.
The company has also accrued close to $5 billion in contracts so far, including a $1.6 billion contract with NASA.
But we're betting it was Musk's November 2014 tweet that really caught Google's eye: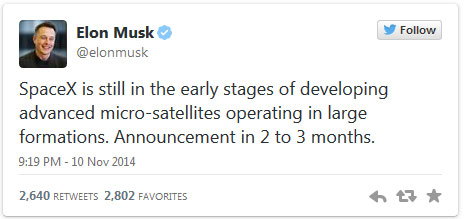 Musk again mentioned the satellite project at a SpaceX event in Seattle on Jan. 16. "Our focus is on creating a global communications system that would be larger than anything that has been talked about to date," Musk told Bloomberg Businessweek ahead of the event. He said the project can be expected in "sooner than five years," and will cost roughly $10 billion.
[epom key="ddec3ef33420ef7c9964a4695c349764" redirect="" sourceid="" imported="false"]
Musk wants wireless Internet speeds to match those of land Internet cables. By doing so, more remote regions will have access to high-speed Internet.
Last week's news of Musk's latest venture clearly grabbed Google's attention...
The $1 billion Google-SpaceX partnership came to fruition just four days later.
"Space-based applications, like imaging satellites, can help people more easily access important information, so we're excited to support SpaceX's growth as it develops new launch technologies," Google said in a statement Tuesday.
Money Morning Tech Specialist Michael A. Robinson - who has followed tech markets for more than 30 years - has high hopes for what a SpaceX-Google team might accomplish.
Check out his Tuesday afternoon appearance on FOX Business' "Varney & Co." where he reacts to the news of a Google-SpaceX partnership:
Invest in SpaceX? SpaceX is a privately owned corporation, but that may soon change. Get our analysis on whether investors may get a chance to invest in SpaceX stock in 2015...