Our 2015 stock picks are showing us two trends right now: Precious metals are still surging, and biotech stocks are coming in hot.
Money Morning already discussed gold miner stocks in last week's 2015 stock picks. And miner Goldcorp. Inc. (NYSE: GG) is still atop the list. It's grown more than 30% in the opening weeks of 2015.
But this week our picks show that biotech is on the move. Four of our top 10 picks are in the sector. Topping the biotech leaders is Novavax Inc. (Nasdaq: NVAX), which is up 24% on the year.
This biotech specializes in vaccines. Money Morning Small-Cap Investing Specialist Sid Riggs recommended the stock in Dec. 2013. Around this time, Novavax was making strides in a vaccine for avian flu. We've highlighted Novavax throughout 2014 as a top penny stock.
Since Riggs's first recommendation, Novavax stock has gained 90%.
But Novavax isn't the only biotech making moves in 2015. A favorite of Money Morning Chief Investment Strategist Keith Fitz-Gerald, Gilead Sciences Inc. (Nasdaq: GILD) stock, is among them. Gilead stock is up already 11.5% in 2015.
Gilead most notably develops and sells Atripla and Truvada, the two most important medications for the prevention and suppression of HIV. The stock has helped Fitz-Gerald's Money Map Report readers book 372% gains.
To see how biotech is performing, as well as our top stocks for 2015, take a look at the chart below.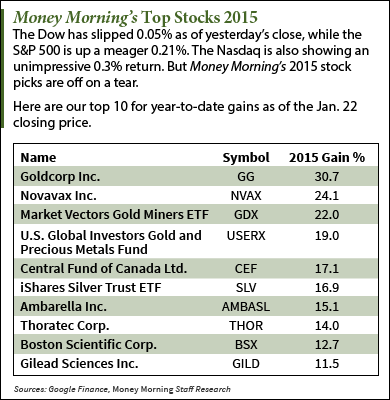 Antibiotic-resistant bacteria are becoming a national health crisis... and the first company to treat this problem is going to be handsomely rewarded with profit. Money Morning Biotech Investing Specialist Ernie Tremblay discussed four companies developing drugs to treat these infections. One company's stock has seen a 200% increase over the past five years. And it's destined to keep soaring. Tremblay discusses these four pharma firms closest to wiping out the "nightmare bacteria" - and getting huge profits...