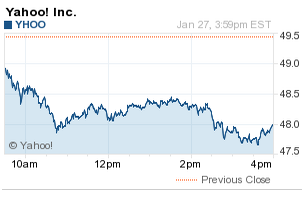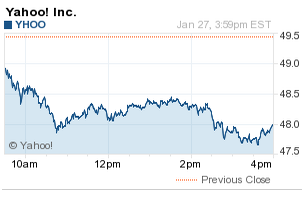 Yahoo shareholders finally got what they've been waiting for: a Yahoo tax-free spin-off.
Yahoo! Inc. (Nasdaq: YHOO) stock is up big in after-market hours today (Tuesday). At 4:30 p.m. EDT Yahoo stock was up more than 7%, above $51. This was not because Yahoo earnings for the quarter impressed...
Analysts estimated that Yahoo would post $0.29 earnings-per-share (EPS). Wall Street expected revenue of $1.19 billion. Yahoo beat EPS estimates with a $0.30 figure. They fell short on revenue at $1.18 billion.
Revenue fell 1.75% from the year-ago fourth quarter. This makes declining sales for 10 of Yahoo's last 12 quarters.
But this is all irrelevant. Yahoo's core business is not the main source of profits. That's been the case since Marissa Mayer stepped in as CEO.
Shareholders are much more interested in Yahoo's now 15% stake in Chinese e-commerce giant Alibaba Group Holding Ltd. (NYSE: BABA).
"Yahoo as a standalone business is just about worthless. I've felt that way for a long time," said Money Morning Chief Investment Strategist Keith Fitz-Gerald last year. "But that doesn't mean the stock is worthless. The value infused by the Alibaba deal is a huge windfall for Yahoo shareholders and Yahoo management."
Yahoo will eventually exit from its investment in Alibaba.
But until then, Alibaba is poised to grow alongside a burgeoning Chinese e-commerce market. As that stock rises, so too will Yahoo's stake. And the cash that the sale will eventually bring back to Yahoo shareholders will be big.
That's why today Yahoo stock got a sizable bounce. Yahoo shareholders have been waiting for Mayer to announce there will be a tax-efficient sale of Alibaba shares. And today, Mayer delivered.
Here's how the tax-free spin-off will work...
Yahoo's Tax-Free Spin-Off: The Basics
Yahoo is going to spin off its stake in Alibaba and attach a legacy business to that new entity. The deal is planned to close out in the fourth quarter of 2015.
Yahoo will retain its core business, its cash holdings, and its stake in Yahoo! Japan.
But it's important to keep in mind the values of these two entities...