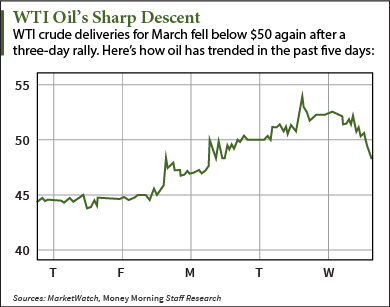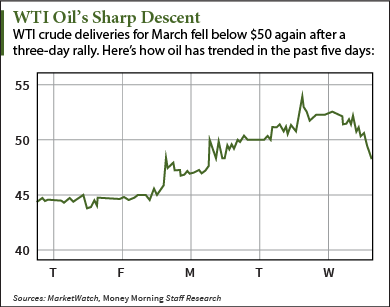 The crude oil price today (Wednesday) abruptly fell below $50 again. The decline began before trading opened when prices hovered around $52 a barrel.
By late afternoon, WTI oil prices were extremely volatile, dipping 9.6% to $47.95 a barrel. Brent oil prices tumbled 6.37% to $54.22.
The drop in the oil price today follows a furious rally seen over the past few trading sessions. Futures rose more than 20% from last Thursday through Tuesday afternoon. Early yesterday, WTI oil traded at $50.88, a 2.6% increase from Monday night. Brent oil had an outstanding performance last week when it surged 8% on Friday – its biggest one-day gain since 2009.
According to CNBC, the crude oil price today posted its largest one-day percentage drop since Nov. 28. That was the day OPEC announced its decision to maintain production.
Dan Greenhaus, chief global strategist of BTIG LLC, succinctly explained today's plunge on Twitter: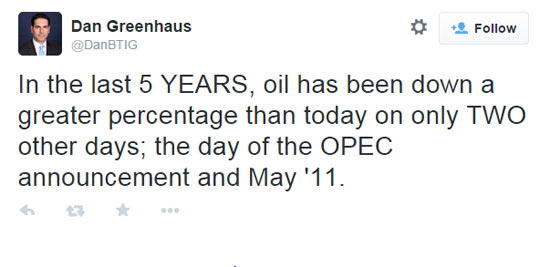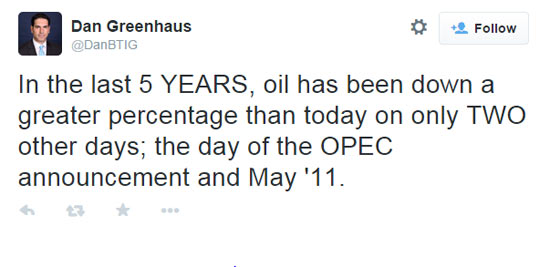 The oil price drop came after another weekly supply announcement. The U.S. Energy Information Administration reported crude oil supplies rose by 6.3 million barrels to 412.1 million in the week ended Jan. 30. Analysts surveyed by The Wall Street Journal expected a gain of only 3.7 million.
The EIA's weekly data going back to 1982 reports supply is at the highest level ever. According to its monthly data, which doesn't line up perfectly with the weekly data, inventories haven't been this high in 85 years.
This Metal to Head Higher in 2015… Gold has seen better days. It's been down for three years. But thanks to growing demand in Asia, gold will bounce back in 2015. Money Morning Resource Specialist Peter Krauth recommends two great ways you can add the precious metal to your portfolio – get started here…  
But Money Morning Global Energy Strategist Dr. Kent Moors knows the global supply glut is heavily exaggerated…
Many TV pundits don't mention the pricing dynamics that will restore equilibrium to the oil market this year. Here's what other experts don't understand about what's happening to oil in 2015…
Follow me on Twitter: @AlexMcGuire92
Related Articles: