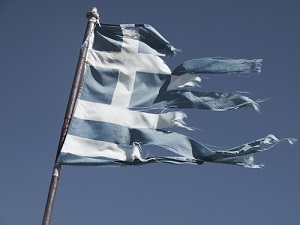 The Greek debt talks that have been playing out over the past week have pitted Germany against Greece.
Of course, there's a smattering of Eurozone finance ministers offering their voice to the meeting, but one player seems conspicuously absent from these talks...
We'll discuss that in a moment. But first, here's an update on where the Greek debt talks are now...
Greece and Germany Still at Loggerheads
The Eurogroup convened last week in Brussels. Eurozone financial officials all gathered in hopes to flesh out an agreement over Greece's crippling debt.
On one end of the discussion, there's Greece.
Greece wants to renegotiate the terms of two bailouts - authored by the European Union and the International Monetary Fund at the height of the Eurozone financial crisis - totaling 240 billion euros ($274 billion). But before they can embark on more substantive negotiations over those loans, they need to wrangle about 10 billion euros ($11.4 billion) in bridging loans out of the Eurozone to keep the country funded in the interim period.
On Feb. 28, a regional aid program is set to expire. And without help from the Eurozone, Greece won't be able to pay its bills. That will lead to an inevitable "Grexit" - a situation where Greek exits the euro and reverts back to its old currency, the drachma.
On another end is Germany. While Germany has always been committed to keeping the Eurozone together, they're growing increasingly tired of Greece. And what's worse, they're becoming more receptive to a Grexit if Greece doesn't play nice with Germany's calls for austerity.
You see, Germany is the richest of the Eurozone countries. Any failure on Greece's part to repay its IMF-EU loans, which were built up by the fundraising efforts of Eurozone members, will hit Germany the hardest. As the strongest economy, it is also the largest creditor to Greece.
Germany is more than willing to help Greece - that is, if Greece adheres to a regimen of strict austerity.
There's one big problem though. Greek elections last month put into power an anti-austerity government. The Syriza party, led by Prime Minister Alexis Tsipras, won on a platform of no austerity. Syriza seized on populist discontent. They blamed Greece's worsening economic situation on the austerity measures attached to the first two bailout packages.
And that's how the battle has played out. It's had on one end a stalwart, unmoving Germany who wants to see Greece exchange Eurozone generosity for austerity. And on the other end, there is a Greek government beholden to an electorate expecting Greece to hold firm on its promises of no more austerity.
But while those two major players headline all the financial news today, investors seem to forget who stands to lose a lot should Greece fall.
The United States.
Greek Debt Talks Have Huge Implications for U.S. Investors
As the Greek debt talks continue to hit snags, the market reaction is predictable. There has been an obvious sell-off in Greek equities, but no panic. And the German markets have slid marginally.
But the Dow Jones today seems unmoved. The DJIA is up about 15 points at mid-afternoon, or around 0.1%. Greek debt talks are crumbling, but U.S. investors don't seem to care.
And that's a big problem.
The U.S. is not immune to any problems that could arise from a breakdown of negotiations between Greece, Germany, and the greater Eurozone.
That's because of a looming $1.5 quadrillion weight hanging around the global economy's neck: the derivatives market.