We're in the very first stages of a leap in wearable tech that will rival the greatest breakthroughs in how we use computers.
Yes, this specific new wearable technology will someday be seen as significant as the point-and-click mouse or the mobile device touchscreen.
It's called augmented reality. It's a type of holographic projection, but merged with the real world.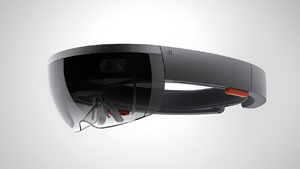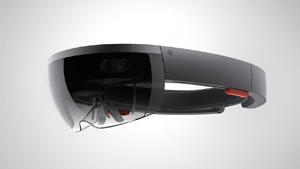 And the company at the cutting edge of this revolutionary wearable tech isn't Google Inc. (Nasdaq: GOOG, GOOGL), Apple Inc. (Nasdaq: AAPL), or Sony Corp. (NYSE ADR: SNE).
It's Microsoft Corp. (Nasdaq: MSFT).
Last month Microsoft unveiled its "HoloLens," the first salvo in what will be a war to dominate computing's next big leap. For the first time in more than a decade, Microsoft is leading the way in a major new technology.
The HoloLens doesn't look like something capable of changing how people use computers. In fact, it most closely resembles a pair of ski goggles.
And yet it's an entirely self-contained computing device. Microsoft says the chips inside the HoloLens can process terabytes of data in real time. That's incredible. One terabyte of data is equal to about 200 full-length HD movies.
But it's what that computing horsepower can do that makes the HoloLens such a game-changing piece of wearable tech.
The augmented reality of the HoloLens takes it well beyond much-maligned Google Glass or even the immersive virtual reality of the Oculus Rift.
Google Glass simply puts a tiny screen in front of the wearer's eye. The screen can display data, and the camera can take pictures and video. Glass is little more than a smartphone on your face.
The Oculus Rift, which Facebook Inc. (Nasdaq: FB) bought last year for $2 billion, has a bit more to offer. But it doesn't link virtual reality with the physical world.
The HoloLens, on the other hand, makes virtual objects look as though they are part of your local environment. And that opens up a lot of tantalizing applications.
The most obvious is gaming. Imagine playing a video game where the characters aren't merely on your screen – they're right in the room with you.
"The first time that teens see a mixed-reality hole blasted in their own bedroom walls revealing invading aliens rushing in behind them, they'll be hooked," Forrester analyst James L. McQuivey told TrustedReviews.
And that's just a glimpse of what's possible…
Holographic Wearable Tech Is a New Platform
Microsoft has demonstrated several intriguing use cases for its HoloLens.
For example, it has partnered with NASA to create a HoloLens simulation of the surface of Mars. Fully developed, such technology would allow scientists on Earth to virtually walk on the surface of other worlds.
Microsoft has also integrated Skype into the HoloLens.