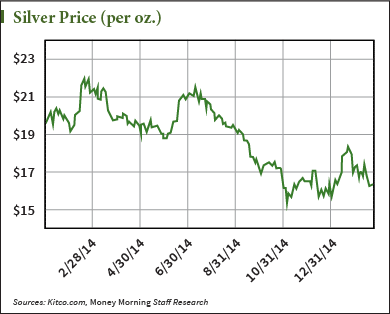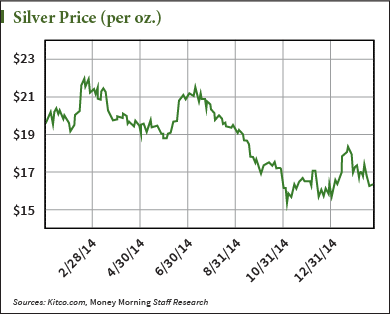 The prevailing silver price volatility and surging stock market has investors asking, "Is silver a good investment right now?"
Silver prices have ranged from $15.785 an ounce to $18.31 in 2015. This is the norm for silver. Last year it was as high as $21.965 and low as $15.315.
The current price of silver is around $16.20 an ounce. It's up about 3.4% on the year, but has been up as high as 16.7%.
It can be hard as an investor to stomach that kind of volatility. But even with all these violent price swings, the reasons that make silver a good investment still hold true.
Why Silver Is a Good Investment
Simply put, silver serves as a crisis hedge. Stocks will still drive the bulk of your portfolio growth. But silver, like gold, provides a backstop against major portfolio losses.
"I have physical silver," Money Morning Defense & Tech Specialist Michael A. Robinson said last year. "I might have bought some at the top, but I don't care what the price goes to. I will not sell that physical silver. It's there for a reason – just like I have insurance on my car, I have insurance in case of a disaster."
So if you own some physical silver, and panic overtakes the current euphoria driving this six-year bull market, you'll have an asset class retaining value as equities fall.
Part of silver's value beyond investment demand comes from growing industrial demand – something stocks don't have. In 2014, 54% of total physical silver demand came from industrial uses, according to the Silver Institute's "World Silver Survey 2014." Industrial uses include electronics, automobiles, and jewelry.
The reason silver prices have slipped in 2014 is that investor optimism continues to fuel markets. If we look at just the past year, where silver has had a clear downward trajectory, it's also had a pretty strong negative correlation of -0.71 with the Dow Jones Industrial Average. That's typical of how silver and gold perform – when the Dow climbs, investors put their money to work in stocks, and show less interest in precious metals.
But the opposite is true when the Dow falls. That's why Robinson looks to buy silver on the dips. And right now is a great buying opportunity…