There was a time when small-caps didn't offer any of the market's best dividend-paying stocks, but that's changing.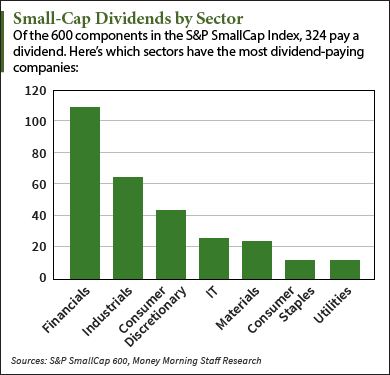 The number of issues in the S&P SmallCap 600 Index presently paying a dividend has jumped 10.2% since the end of 2013. Now some of the best dividend-paying stocks in the small-cap sector include a health REIT yielding 4.61%, a natural gas company yielding 3.92%, and a regional bank yielding 3.53%.
"Initiating a dividend represents a broad commitment of future earnings, to which companies need to be very sure of their future cash flow," Howard Silverblatt, Senior Research Analyst at S&P Dow Jones Indices, said in a statement.
Some 324 of the 600 SmallCap components currently pay regular cash dividends. That gives the benchmark an average yield of 2.24%. Eighteen have increased their cash payouts for at least 20 consecutive years. Nineteen more have increased dividends for at least 10 successive years. And 231 have paid dividends for at least five straight years.
Based on the current dividend rate, 202 companies will shell out more in dividends this year than they did in 2014, according to S&P. In 2014, 255 companies paid more than in 2013. In 2013, 139 companies paid more than they did in 2012.
That's a trend not to be ignored.
Small-cap financials (109) represent the largest dividend-paying sector in the small-cap index. Industrials follow with 65. Consumer discretionary stocks take the No. 3 spot with 44. A smattering of sectors, ranging from information technology to telecommunications, make up the rest.
So what's behind the move of small-caps becoming the best dividend-paying stocks on the market?
Why There Are More Small-Cap Dividend-Paying Stocks
All lot of small companies have decent cash flow, Silverblatt explained.
Indeed, small-cap companies bought back roughly $23 billion worth of shares in 2014. According to Citigroup, that was the most since 2007. About 30% of companies in the sector made repurchases last year.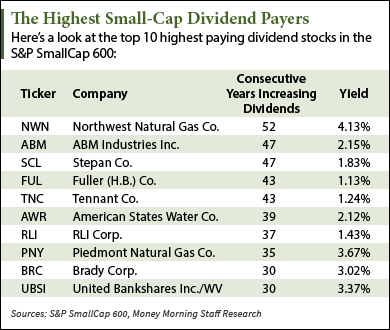 Mounting shareholder pressure for a regular dividend also likely spurred the payout movement, Silverblatt added.
Six-plus years of a near zero interest rate environment sent yield-starved investors hunting for income wherever they can get it. As a result, investors piled into dividend-paying stocks. Small caps, no doubt, have taken note. They've jumped on the dividend-paying bandwagon.
By initiating dividends, small cap companies show their commitment to investors. They also open up the door to future dividend hikes.
Dividends, increasing dividends in particular, are instrumental in driving portfolios' returns. Since 1926, over 40% of historical stock returns have come from dividends, according to Ned Davis Research.
Thanks to regular, and potentially higher, cash payouts, small-cap investors can now get a steady stream of income along with growth prospects.
You can get in on the profits. Here are five small-cap dividend dynamos.