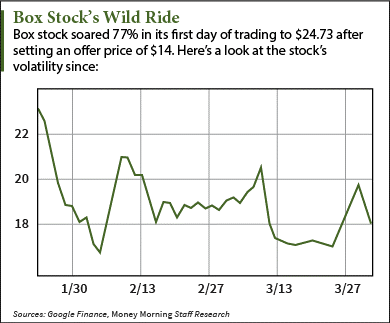 Box Inc. (NYSE: BOX) stock has been the most talked about new stocks of 2015.
After setting an offer price of $14 on Jan. 22, Box stock soared 77% in its first day of trading to a high of $24.73 per share.
It's been a very different story for Box stock since that first day, however. Within nine days of hitting the market, Box stock fell 33.6% from its high.  Through April 2, it's still down more than 27% at $17.90.
After its huge first-day pop and subsequent pullback, investors have been asking us "should I buy Box stock?"
Here's all the information you need to know about Box, along with the best way to play Box stock now…
A Closer Look at Box Inc. (NYSE: BOX)
The Box IPO raised $175 million when company sold 12.5 million shares for $14 each. The $14 offer price was above its proposed range of $11 to $13 per share, indicating strong demand from institutional investors before the deal.
Box is a cloud-storage company with more than 25 million registered users. It works with more than 45,000 companies globally, and counts more than 50% of the Fortune 500 list as clients. Some of its biggest customers include Astra Zeneca Plc. (NYSE: AZN), General Electric Co. (NYSE: GE), and eBay Inc. (Nasdaq: EBAY).
But the company offers more than just cloud storage. It also provides its customers with secure file sharing, enterprise security, file synchronization, and management services.
CEO Aaron Levie has also told investors the company plans to differentiate its products based on industry.
"We're starting to see that in each industry, the way you use data, the way you use information, the really transformational ways you use the cloud tend to be fairly different," Levie told The Wall Street Journal.
Specifically, Levie wants Box to become a major player in the healthcare and retail industries.
Box reported earnings for the first time as a public company on March 11. Revenue was $62.6 million for Q4, which was an increase of 61% from the previous year. That 61% growth was down from 70% in the previous quarter and 81% the quarter before that.
According to Money Morning's Defense and Tech Specialist Michael Robinson, slowing revenue growth is not a huge concern right now. It is difficult for any company to maintain 80% revenue growth quarter after quarter.
However, he says there are two major problems with Box that make investing in Box stock a risky proposition now…