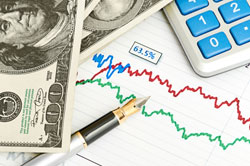 Our Q1 Nasdaq earnings calendar consists of the largest 20 companies on the Nasdaq 100 - an index tracking the largest non-financial companies trading on the Nasdaq exchange.
The Nasdaq 100 is a capitalization-weighted index, meaning each stock's influence on the index is based on their market cap. Certain rules limit the largest stocks in order to allow for more diversification. Despite its name, the index actually tracks 101 stocks thanks to Google Inc.'s (Nasdaq: GOOG, GOOGL) dual listing.
Both the Nasdaq exchange and the Nasdaq 100 include a large percentage of tech stocks. Because of its higher density of tech stocks, the Nasdaq 100 is commonly associated with the performance of the tech sector as a whole.
And the sector had a booming first quarter. The Nasdaq 100 gained 2.3% between Jan. 1 and March 31. It beat the Dow Jones and S&P 500 by 2.6% and 1.9%, respectively.
Here are the Q1 earnings release dates of the 20 largest companies by market cap on the Nasdaq and Nasdaq 100:
| | | |
| --- | --- | --- |
| Company | Earnings Release Date | Market Cap (as of April 6) |
| Google Inc. (Nasdaq: GOOGL) | 14-Apr | $367.4 billion |
| Intel Corp. (Nasdaq: INTC) | 14-Apr | $147.8 billion |
| Amgen Inc. (Nasdaq: AMGN) | 21-Apr | $119.1 billion |
| Facebook Inc. (Nasdaq: FB) | 22-Apr | $230.6 billion |
| Amazon.com Inc. (Nasdaq: AMZN) | 22-Apr | $175.6 billion |
| QUALCOM Inc. (Nasdaq: QCOM) | 22-Apr | $111.5 billion |
| Baidu Inc. (Nasdaq ADR: BIDU) | 22-Apr | $71.5 billion |
| eBay Inc. (Nasdaq: EBAY) | 22-Apr | $69.1 billion |
| Microsoft Corp. (Nasdaq: MSFT) | 23-Apr | $333.8 billion |
| Starbucks Corp. (Nasdaq: SBUX) | 23-Apr | $70.9 billion |
| Biogen Inc. (Nasdaq: BIIB) | 24-Apr | $98.3 billion |
| Apple Inc. (Nasdaq: AAPL) | 27-Apr | $737.9 billion |
| Mondelez International Inc. (Nasdaq: MDLZ) | 29-Apr | $60.8 billion |
| Gilead Sciences Inc. (Nasdaq: GILD) | 30-Apr | $146.4 billion |
| Celgene Corp. (Nasdaq: CELG) | 30-Apr | $91.6 billion |
| Comcast Corp. (Nasdaq: CMCSA) | 4-May | $148.4 billion |
| Twenty-First Century Fox Inc. (Nasdaq: FOXA) | 5-May | $72.7 billion |
| Priceline Group Inc. (Nasdaq: PCLN) | 6-May | $61.7 billion |
| Cisco Systems Inc. (Nasdaq: CSCO) | 13-May | $138.6 billion |
Money-Making Tips for Today: