The Etsy (Nasdaq: ETSY) stock price today closed at $30. ETSY shares gained 87.5% from its $16 price announced Wednesday night. The Etsy IPO raised $267 million.
The total number of outstanding shares is 110.9 million. Based on the closing price, Etsy commands a $3.3 billion valuation.
The deal diverts attention away from Silicon Valley toward the New York tech scene. The last tech company from the Big Apple to raise more than $250 million was Barnesandnoble.com in 1999.
Here's how the stock price ranks alongside other New York tech IPOs…
The Etsy (Nasdaq: ETSY) Stock Price Today Beats Other New York Tech IPOs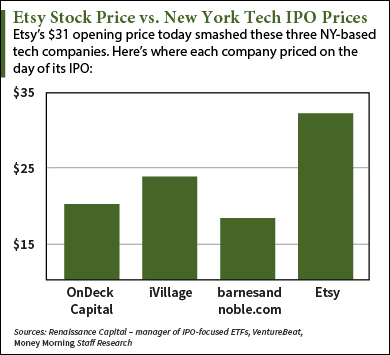 Etsy is a Brooklyn-based e-commerce company that allows users to buy and sell homemade items. These products include everything from art and photography to food and bath products.
The company is now the biggest New York tech IPO since the dot-com bubble. The previous holder of that title was OnDeck Capital Inc. (NYSE: ONDK).
OnDeck is an online loan platform that has issued over $1 billion in small business loans, according to Renaissance Capital, a manager of IPO-focused ETFs.
ONDK stock hit the market last December and priced well above its $16 to $18 range at $20. The deal raised $200 million and gave OnDeck a $1.32 billion valuation.
At market open, the Etsy stock price was 55% higher than OnDeck's IPO price last year. Etsy's $3.3 billion valuation also beats OnDeck's valuation by 150%.
More on Etsy IPO: Etsy is one of the most unique stock debuts of the year. But is it worth buying ETSY stock? We break down whether or not you should buy into the Etsy IPO…
Follow me on Twitter: @AlexMcGuire92