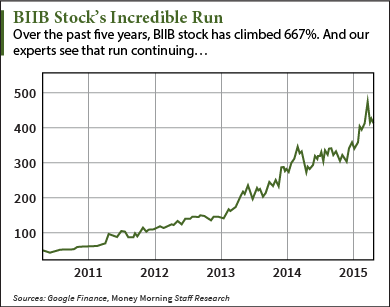 The Biogen Inc. (Nasdaq: BIIB) stock price was down about 6% this morning (Friday) after the company missed on Q1 earnings – but this slip won't last…
Biogen reported earnings per share (EPS) of $3.82 compared to estimates of $3.91. Revenue was $2.55 billion for the quarter, which missed estimates of $2.66 billion.
Despite the misses, EPS was still up nearly 55% from last year. Revenue was up almost 20% on a year-over-year basis.
Even with the drop, BIIB stock is still more than $400 per share. It has climbed a whopping 667% in the last five years. That high price tag has kept some investors away from BIIB stock.
But according to Money Morning experts, the BIIB stock price is not too high at $400 a share.
As Money Morning Defense and Tech Specialist Michael Robinson explains, the stock is not actually as expensive as it looks…
"Let's remember that just because a stock has a high 'sticker price' doesn't make it expensive on a relative basis," Robinson said. He has been following the BIIB stock price closely for over 20 years.
"As with all stocks, whether they trade at $10 or $1,000, the question is: how much upside can we expect?" he said. "And the good news here is that Biogen still has plenty of room to run."
In fact, there are three major reasons to be bullish on the BIIB stock price now…
Why We're Bullish on the Biogen (BIIB) Stock Price in 2015
The first BIIB share-price driver is its developments in multiple sclerosis treatment.
Biogen's famous MS treatment, Betaseron, was the first FDA-approved drug that treated MS.
Biogen continues to market Betaseron, but it has other drugs in its MS pipeline. In Q1, sales from the company's MS division totaled $2.1 billion compared to $1.7 billion last year.
Now it's getting a chance to explore MS more thoroughly. In early 2015, Biogen announced a partnership with Google Inc. (Nasdaq: GOOG, GOOGL). The two firms have created futuristic labs that use sensors, software, and data analysis to conduct better treatment research.
"Earlier, Biogen had initiated a project with Fitbit, using the company's activity trackers to gather data on MS patients," Robinson said. "The Google partnership is an extension of that kind of thinking – using sensors to track the real-time medical data and also analyze all the Big Data to look for clues in treating and getting ahead of MS."
"This digital health approach also has huge implications for understanding all sorts of complex diseases, from cancer to Parkinson's," he explained. "It highlights the kind of creative partnering that has made Biogen such a force in the industry."
The second BIIB stock price catalyst is the graying of the United States' population. The baby boom generation totals more than 76 million people who were born between 1946 and 1964.
We're already seeing a spending increase on pharmaceuticals, thanks in large part to this group. According to the research firm IMS, total spending on prescription drugs rose 13.1% in 2014.
"This is the nation's largest patient group and they are just now ramping up their healthcare needs in a trend that will run for at least the next two decades," Robinson said.
This population will be using a lot of Biogen's biggest money-making drugs. You see, while a lot of Biogen's money has come from MS treatment, it's a new area of focus that the company has been receiving attention for in 2015…