One company investors should have their eyes on after this Verizon-AOL deal is Yahoo! Inc. (Nasdaq: YHOO).
This morning (Tuesday) it was announced that telecom giant Verizon Communications Inc. (NYSE: VZ) was going to acquire struggling Internet brand AOL Inc. (NYSE: AOL) for $50 a share, or $4.4 billion.AOL stock soared almost 19% after the deal was announced. This was good news for a once-great Internet name that has been forced to futilely compete in the online ad space after its dial-up Internet service lost a lot of ground amid the shift to broadband.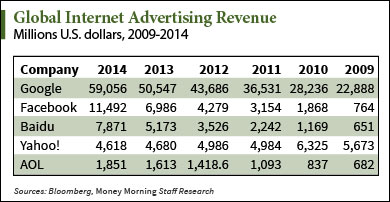 And it didn't help that in 2000 it was a part of one of the most disastrous mergers of all time with Time Warner Inc. (NYSE: TWX).
What this deal symbolizes is that on its own, AOL was a dying company. AOL may still have 2.1 million subscribers for its dial-up service, but its main business is selling online display ads.
And as Google Inc. (Nasdaq: GOOG, GOOGL) and Facebook Inc. (Nasdaq: FB) have demonstrated over the years: the only way to thrive in a business where there is infinite ad space for sale is to revolutionize the game, not merely play along.
This Verizon-AOL deal also shines a light on what AOL's also-struggling rival Yahoo should do.
Here's why there are a lot of parallels between AOL and Yahoo...
Why Yahoo (Nasdaq: YHOO) and AOL Are So Similar
In the 1990s when AOL was in its heyday and Yahoo was emerging as an up-and-coming Internet company, there were backroom discussions about whether the two would join forces.
At the time, AOL was on top. It had an interest in Yahoo because it wanted to build an unbeatable Internet giant.
That merger never happened.
Fast-forward to September 2014. Alibaba Group Holding Ltd. (NYSE: BABA) had just gone public.
Yahoo, which then had a 20% stake in the burgeoning Chinese e-commerce juggernaut, was beginning to sell off its shares in the company. This was happening even though at that point the only real value Yahoo stock brought to investors was the windfall it promised to deliver when it cashed in on this huge position.
Yahoo then became the target of hungry activist investors. Starboard Value LP's Jeffrey Smith saw the Alibaba IPO as a chance to pen a letter to Yahoo CEO Marissa Mayer, urging her to squeeze as much shareholder value out of her company as she could.
One of his recommendations was for YHOO to merge with AOL. At this point, AOL could be described as in its death throes. The memories of the dial-up behemoth AOL swooping in to buy a fast-moving Yahoo were long gone. The tables had turned.
The problem with this deal was figuring out just how much value Yahoo was really going to unlock. In 2014, the market share for global Internet advertising - the most "profitable" businesses for AOL and Yahoo - was thoroughly in Google's hands.
Google raked in $59.1 billion. Facebook brought in $11.5 billion. Yahoo and AOL weren't even competing for third - that spot was occupied by the "Chinese Google," Baidu Inc. (Nasdaq ADR: BIDU) at $7.8 billion.
Yahoo and AOL were competing for the crumbs that fell from Google and Facebook's table. In fourth place, Yahoo had brought in $4.6 billion in ad sales, while AOL's revenue in the segment was at a paltry $1.9 billion.
So while Yahoo likes to think it's competing with Google and Facebook as a big-time, ad-selling rival, the whole time it was really only competing on the periphery with AOL for whatever meager dollars the industry giants let slip through their fingers.
The only real assets Yahoo and AOL bring to the industry are the No. 1 and 2 market shares for online news - Yahoo with Yahoo! News at 3.8%, and AOL with the Huffington Post at 3.3%, according to eMarketer. But those market shares are miniscule in a crowded industry, making it impossible for either to break from the pack and turn those properties into cash cows.
Jeffery Smith's vision of a Yahoo and AOL merger was dashed today when Verizon swooped in to buy AOL.
A sale really was the best thing for AOL. And it would be for Yahoo, too, if it abandons its fruitless competition with the industry leaders and begins looking for a suitor.
And here's who may very well save Yahoo with an acquisition of its own...