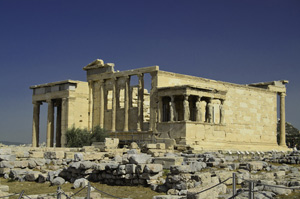 For most of the Greek debt crisis the reality has been well-known. Even if it was only initially discussed among the staffers and in the back offices of the International Monetary Fund, a Greek default has always been inevitable.
So now that Greece is €328 billion ($368.9 billion) in the hole - a 175% debt-to-GDP ratio - exactly why hasn't Greece defaulted on its debt yet?
The Greek debt crisis began in October 2009 when the socialist George Papandreou won a resounding victory in Greek elections and was sworn in as prime minister of Greece. He cracked open Greece's budget books and found that previous administrations had misreported key economic data.
European Union treaties require that member countries limit their yearly deficits to 3% of GDP. Through swap deals with Goldman Sachs that masked Greek debt, and by hiding certain budget items, Greece was admitted into the EU despite what Papandreou discovered to be a hidden deficit that had ballooned to 12.7% of GDP.
The months ahead were marked with credit downgrades and a panic in the Greek bond market. It became clear at that point Greece would be unable to finance its mounting debt by the conventional means of selling bonds on the open market and rolling those debts over. It would need to seek international assistance.
Former European Central Bank President Jean-Claude Trichet and the European Commission attempted to handle the brewing crisis on their own by negotiating a fiscal program for Greece to cut its debt. But they failed to quell panicky market sentiment. So they invited the IMF to help put together a bailout package.
The program was negotiated in May 2010. It involved a three-year disbursement of €110 billion ($123.7 billion) in loans - €80 billion ($90 billion) in bilateral Eurozone loans and €30 billion ($33.7 billion) from the IMF.
Deputy Director of the IMF's European Division from 1999 to 2007, Susan Schadler, wrote in a 2013 report the IMF viewed the proposed program with a lot of skepticism.
She pointed out that a 2010 IMF report hinted at the possibility of a Greek default early on in the process. IMF staffers wrote, "There may be scope to bolster [the bailout package] by seeking coordinated voluntary rollover understandings among creditor groups."
But on the global stage, these discussions of a Greek default didn't happen.
Here's why...
Explaining Why Hasn't Greece Defaulted on Its Debt Yet