Spotify stock has yet to begin trading, but a new move by Apple Inc. is already a major threat to a Spotify IPO...
Spotify is the world's most popular subscription streaming service. It has more than 60 million active users. More than 15 million of those pay a monthly $10 subscription.
We're still awaiting details about the Spotify IPO date, but many speculate the deal could take place in late 2015. Spotify has already raised $105 million in equity funding and is valued at $8.0 billion. That makes it the 13th highest-valued startup in the world.
But today (Monday), Apple (Nasdaq: AAPL) launched a paid music-streaming service at the Apple Worldwide Developers Conference (WWDC). The move is a direct attempt to compete with Spotify in the growing music-streaming market.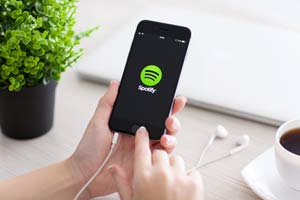 The move to streaming music marks a big shift for Apple. Apple's iTunes was transformative to the music industry when it launched in 2003. It made digital downloads the preferred medium.
But many of those users are switching to music-streaming sites...
According to the International Federation of the Phonographic Industry, more than 41 million people globally pay for a music subscription. Worldwide revenue from these services grew 39% to $1.8 billion in 2014. At the same time, download sales fell 8% to $3.6 billion.
"Streaming media is increasingly important to the computer-using experience, so it's important for Apple to have a role there," Apple's Creative Strategies Analyst Ben Bajarin told the Associated Press.
By the time Spotify stock comes to market, it will still be the leading music-streaming company in the industry. But the fact that Apple, the world's largest tech company, is moving into the market is troubling.
And that's not the only company Spotify will be competing against...
Spotify Stock Is Already in Trouble Pre-IPO