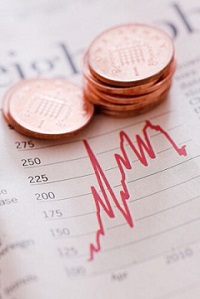 The three best penny stocks to buy today aren't your typical penny stocks – and they all have the capability to return triple-digit gains in a matter of months.
What sets these penny stocks apart – besides their profit potential – is they don't trade "Over the Counter" or on the Pink Sheets. They're real companies, with real products. You won't be buying into a penny stock scam, or a shell company passing itself off as the next best thing.
Each of the best penny stocks to buy trades on the Nasdaq and are priced between $3 and $5. So you won't being buying shares that trade for a fraction of a penny. They also all have solid liquidity, meaning you can enter and exit these trades easily.
Here are our three best penny stocks to buy now, and the reasons we're so bullish on them…
Best Penny Stocks to Buy Today No. 1: Oncothyreon Inc. (Nasdaq: ONTY)
Oncothyreon Inc. (Nasdaq: ONTY) was a penny stock I recommended to readers back in September 2014. Year to date, it has climbed more than 111%.
It's a clinical-stage biopharmaceutical company that develops treatments for various types of cancer.
The company had a major breakthrough at this year's American Society of Clinical Oncology (ASCO) annual meeting earlier this month. Company officials presented its early-stage breast cancer drug ONT-380 and said the drug was successful in reducing tumors in an early study. The drug was said to be effective in treating women with HER2-positive metastatic breast cancer who didn't respond to other treatments. It was a phase 1 clinical trial.
Since the ASCO meeting started in late May, ONTY shares have jumped another 18.6%.
The company is also developing tecemotide, a treatment for small-cell lung disease that stimulates the patient's immune system into fighting and destroying the disease.
Even after this year's meteoric rise, shares of ONTY are still priced at just $4.04. One analyst surveyed by Thomson/First Call has a price target of $5, which would be a 23.8% gain from today's price.
Any more updates on ONT-380 could send ONTY shares much higher.
Continue reading for two more of the best penny stocks to buy now…