With silver prices flat for the year, is silver a good investment to make right now?
Silver has not performed nearly as well as its high-flying days of 2009-2011, when it quadrupled in price. But that doesn't mean the metal doesn't have value to your portfolio.
Let's delve into some relevant aspects of the silver market to determine whether now is a good time to invest in silver.
Where Silver Is Trading Now
If we look at silver's price chart over the past year, we can gain some interesting insight:
Sign up for SMS so you never miss special events, exclusive offers, and weekly bonus trades.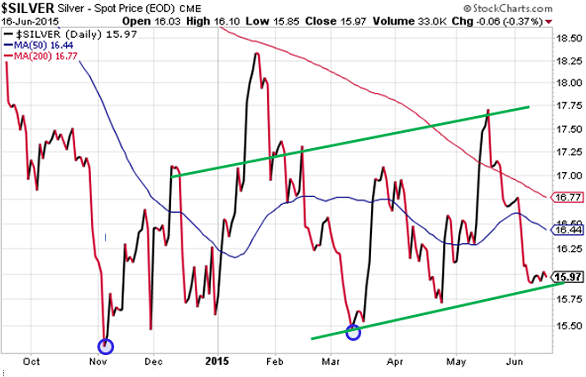 You can see the price bottoming around $15.25 in November, then after a spike to $19.25, dropping back to around $15.50 in March. We can also distinguish a rising trend channel that seems to be establishing itself (green lines).
As for the 50-day moving average, it looks like it has stabilized, bouncing around the $16.50 level. Consider, though, that the 200-day moving average is still trending downward.
What will be especially constructive is when the 50-day moving average moves up to cross the 200-day moving average, better known as a "golden cross," a bullish signal potentially forecasting an upcoming trend change.
But to understand more about if silver is a good investment right now, at current prices, I always look at this indicator...
Determining Silver's Value
Another compelling buy signal for silver prices right now is the gold/silver ratio, calculated by simply dividing the gold price by the silver price. This metric essentially tells us how many silver ounces we can buy with one gold ounce.
As you can see from the accompanying chart, the ratio bottomed in April 2011 when silver peaked at $49 and has been steadily climbing since: