Low-risk, high-return investments have become scarce in the low-interest environment that followed the 2008 financial crisis.
Historically, income investors could get respectable yields from an array of relatively safe investments, such as bonds, certificates of deposit (CDs), and, at one time, savings accounts.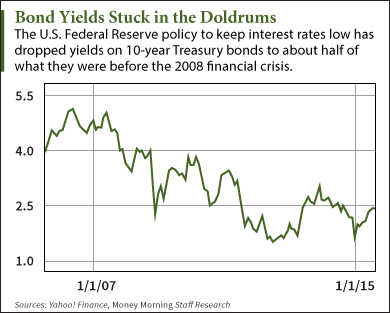 But nearly seven years of zero-interest rate policies by the U.S. Federal Reserve have dragged down returns on all interest-dependent investments to the point where they're almost not worth the bother.
The 10-year U.S. Treasury Bond yield is just 2.42%. Bank savings accounts typically pay fractions of 1%. (Does anyone remember when just about every bank in town paid 5.25% interest on a savings account?)
CD rates are abysmally low. According to Bankrate.com, a one-year CD this week pays a yield of just 0.27%. A five-year CD has a yield of 0.87%.
Tiny yields like that have little appeal to any investor.
And the situation doesn't figure to improve any time soon. While Fed Chairwoman Janet Yellen has hinted at a possible rate hike later this year, any increase will be too small to have much impact. Normalization of interest rates will take years.
But the need for income-producing high-yield investments has not gone away. And it has led some income investors to consider risky alternatives.
Junk bonds top that list. They offer higher rates of return, but carry much more risk than what's known as investment-grade bonds. When interest rates rise, not only will the value of a junk bond drop, but it's more likely to default.
High-yield stocks also can look like a good high-return investment. Not all high-yield stocks are bad, but it's easy to get burned.
A company in trouble will chop its dividend, which usually means a big drop in the stock price – and lost capital. Even if a company is doing okay, a suspiciously high dividend that exceeds earnings is unsustainable. And it means a costly dividend reduction is likely.
Still, it's not impossible to find good high-return investments today. Here are three kinds with the best prospects…