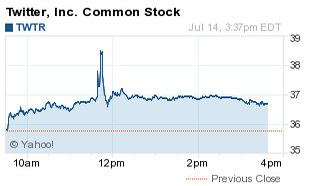 The Twitter Inc. (NYSE: TWTR) stock price jumped more than 8% Tuesday morning, hitting an intraday high of $38.82 after CNBC reported the microblogging company had received a $31 billion takeover offer.
A report on a website created to look like Bloomberg claimed Twitter had gotten the hefty bid. The story was subsequently picked up by The Fly and quickly spread. The bogus website stated Twitter was working with bankers on a sale after receiving the takeover offer.
Shortly thereafter, a Bloomberg spokesperson said the Twitter story was fake.
The takeover rumor was deemed credible and wasn't immediately dismissed since chatter of a sale, which has been around for a while, has recently grown more pronounced.
Indeed, since co-founder Jack Dorsey stepped up in June to fill the chief executive officer role vacated by Dick Costolo, talks about a possible Twitter sale have swirled.
Costolo's departure raised deep questions about the fate and future of the message service, which is built around 140-character snippets of text in a world that has become increasingly centered on photos and video.
Those named as potential buyers of Twitter are a who's who of tech. They include Apple Inc. (Nasdaq: AAPL), Google Inc. (Nasdaq: GOOG, GOOGL), Facebook Inc. (Nasdaq: FB), Cisco Systems Corp. (Nasdaq: CSCO), Amazon.com Inc. (Nasdaq: AMZN), and Microsoft Corp. (Nasdaq: MSFT).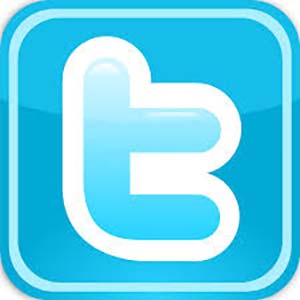 Still, Dorsey has long expressed, and recently reiterated, that he wants Twitter to remain independent. He did, however, admit that it is the duty of Twitter's board to entertain any proposal that would increase shareholder value.
Yet amid management instability, interested activist investors, muted growth, and a lackluster user monthly tally of 302 million (compared to Facebook's 1.44 billion), remaining independent might not be an option.
In early afternoon trading Tuesday, while off the session's highs, Twitter stock managed to hold on to some of the day's gains. Shares were trading up $1.17, or 3.27%, at $36.95. By 1 p.m., more than 39 million shares had changed hands, compared to average daily volume of 20.66 million.
Year to date, the TWTR stock price is up 3.01%.
Stay informed on what's going on in the markets by following us on Twitter @moneymorning.
Related Articles: