Netflix shares immediately climbed 10% in after-hours trading today (Wednesday) following the company's Q2 2015 earnings report.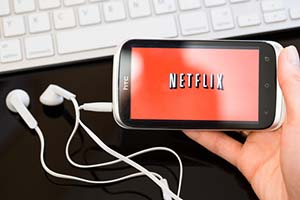 Netflix Inc. (Nasdaq: NFLX) officials reported an earnings per share (EPS) beat of $0.06, compared to an estimate of $0.04.
Revenue was reported at $1.64 billion, which was a slight miss from analysts' estimates of $1.65 billion. Despite the miss, revenue was up 22.4% from last year.
The biggest number in the report was the total user figure, which reached 65 million people globally. In Q2, NFLX added 3.28 million users, which was up from just 1.7 million users last year. Analysts had expected 2.46 million new users.
Sign up for SMS so you never miss special events, exclusive offers, and weekly bonus trades.
The company now has 42 million users in the United States and 23 million international users. Most of this quarter's new users (2.4 million) were international. The company reported that international revenue also grew 48% year over year.
Officials announced that Netflix's expansion into Asia will begin in Q3. It will offer its services in Japan first.
The Netflix stock split was also big news for the company today. The company held a 7-for-1 stock split this morning, meaning shareholders of record as of July 2 received six shares for every one they previously owned. It also means the share price came down from roughly $700 each to about $100 each.
"At a lower price point, there's a perception the stock is more accessible," Netflix spokeswoman Anne-Marie Squeo told Bloomberg in April.
In a filing from April, Netflix officials also said issuing new stock would allow better flexibility for dividends, equity financing, and acquisitions.
Now, there is increased interest in Netflix shares thanks to the lower price and earnings beat. But is now the best time to buy Netflix stock?
How to Play Netflix Shares Now