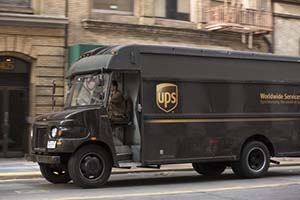 Will UPS buy Coyote Logistics? United Parcel Service Inc. (NYSE: UPS) is reportedly in talks to buy Coyote Logistics LLC for as much as $1.8 billion.
Bloomberg reported that a deal between package delivery service giant UPS and Coyote, a Chicago-based provider of transport management services, could be inked as early as this month. But they noted the transaction is still in discussion stages.
The deal would allow UPS to capitalize on the fast-growing freight brokerage business.
Coyote is one of the fastest growing third-party logistics providers in the country. It coordinates freight movement across North America for some 40,000 shippers of all sizes involved in numerous industries, including consumer goods, industrial goods, retail, and healthcare. Last year, Coyote booked $2 billion in revenue.
Shippers have been switching to cheaper and slower delivery methods, like freight. U.S. domestic freight brokers, or third-party logistics companies, grew 20% in 2014. By 2018, the business is expected to reach nearly $200 billion in overall sales, according to research firm Armstrong & Associates.
While not all financial numbers are public, Coyote says it's profitable. Yet some analysts question how the firm will mesh with UPS's business and what synergies the two will generate. UPS primarily owns its own delivery trucks and airplanes. That's quite different from Coyote Logistics' business.
"I'm kind of shocked," Kevin Sterling, a transportation analyst with BB&T Capital Markets told The Wall Street Journal. "To me, it doesn't seem like it would fit their model."
Sterling added that UPS may feel pressure to keep up with acquisitions by rivals in the fast-growing space.
A union between Big Brown and Coyote would be the third-largest logistics deal this year. The industry has seen a flurry of consolidation as more and more consumers shop online and their purchases need to be delivered.
In April, UPS's main rival FedEx Corp. (NYSE: FDX) announced a $4.8 billion deal for Dutch parcel delivery company TNT Express. Also in April, XPO Logistics Inc. (NYSE: XPO) agreed to buy European rival Norbert Dentressangle SA for about $3.53 billion, including debt.
UPS needed to deliver some good news to goose shares, but a possible Coyote transaction wasn't it. Shares slipped 0.87% to $96.38 Thursday morning. Year to date, UPS stock is off 13.65%.
Stay informed on what's going on in the markets by following us on Twitter @moneymorning.
Profit Alert: Since Money Morning Executive Editor Bill Patalon launched his Private Briefing program just a few short years ago, he's recommended 192 stocks that have either doubled or tripled in value. The service has completely revolutionized the way people invest. Keep reading to find out more about his extensive research and premium stock picks...
Related Articles: