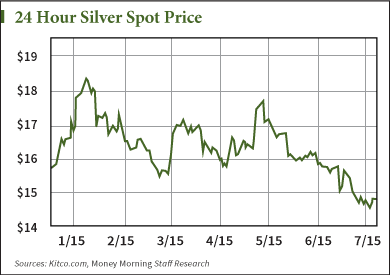 There seems to be a prevailing narrative that investing in silver is only attractive at a time when global central bankers are pursuing easy money policies like low interest rates and quantitative easing.
So with the U.S. Federal Reserve looking to raise rates some time before the end of the year, investing in silver right now doesn't look like the best idea.
That sentiment has hit the silver price, as the accompanying silver price chart shows. The spot silver price, after having risen as much as 16.7% on Jan. 22, has fallen big time.
Since then, silver prices are down 19.2%, closing out last week at $14.79 per ounce. The silver price per ounce topped out in February 2014 at $21.965. It has fallen 32.7% since then. It's down 69.3% since its April 2011 closing high of $48.70.
So, why would anybody be investing in silver right now?
The obvious answer is that silver investments aren't supposed to be played for explosive gains. They go hand-in-hand with precious metal investments like gold as a way to diversify and provide an asset uncorrelated to the broader market movements.
Silver, like gold, can be looked on as insurance.
"I have physical silver," Money Morning Defense & Tech Specialist Michael A. Robinson said. "I might have bought some at the top, but I don't care what the price goes to; I will not sell that physical silver. It's there for a reason - just like I have insurance on my car, I have insurance in case of a disaster."
But that still falls short of quelling some investor concerns such as, "Why are silver prices falling?"
Especially when for the better part of the last decade, global central bankers haven't shied away from easy money. The conventional wisdom is that with such an "inflationary" bias in central banking, gold should be getting a boost as more money is printed.
The answer to that is a little more complicated.
How an End to Easy Money Makes Investing in Silver Attractive