The U.S. Commerce Department reported today (Thursday) that U.S. GDP grew faster in Q2 2015 than first thought, thanks to solid domestic demand.
The Commerce Department's second GDP report showed that gross domestic product expanded at a seasonally adjusted annual rate of 3.7%.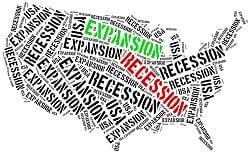 That easily beat initial estimates of 2.3%. It was also comfortably better than the 3.3% rate economists had expected.
Thursday's data showed U.S. GDP growth in Q2 was broad-based. Leading the upward revisions were business investments, which rose 3.2%. That compares to earlier estimates of a 0.6% decline.
There were also upward revisions for government spending and consumer spending. Imports saw a downward revision.
Consumer spending, representing more than two-thirds of economic output, grew 3.1% in Q2. That was up from the first reported 2.9% and was a clear improvement from Q1's 1.8%. Improving consumer confidence is likely due to stable hiring and lower gasoline prices.
According to AAA, average U.S. gas prices today are at the lowest levels for this time of year since 2004. The current national average price of gas is $2.59 per gallon. That's $0.08 less than a week ago and $0.84 less than a year ago. Pump prices are now $0.21 per gallon below the 2015 peak price reached on June 15.
Home building and improvements spending increased at a 7.8% pace, compared with a previous reading of 6.6% and a first-quarter gain of 10.1%.
"The economy regained a massive amount of momentum in the second quarter and all the evidence from July's activity and employment data suggests that momentum continued into the third quarter," Paul Ashworth, chief U.S. economist at Capital Economics, said in a note to economists.
And Thursday's report could be used as an argument for the U.S. Federal Reserve to hike interest rates for the first time since June 2006 this year...