U.S. Dollar Drops Today: The U.S. dollar fell against the yen and euro yesterday after global markets had another down day.
The Dow Jones Industrial Average was down 114 points Monday and another 400 points early Tuesday. The Stoxx Europe 600 was down 0.4% Monday, while Germany's DAX slipped 1%.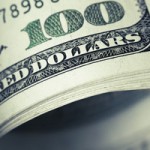 On Monday, the dollar index fell 0.2% to 95.968. The index tracks the U.S. dollar against six global currencies. For the month of August, the U.S. dollar index dropped 1.5%. Still, that was much higher than the seven-month low of 92.621 that was set last week.
The downward moving market caused many investors to cancel their "carry trades." Carry trades are when traders sell low-yield currencies in favor of riskier, high-yield currencies. When markets are down, they typically abandon these moves.
"Stock markets are in focus and absence of risk appetite is acting as a headwind to the dollar," Nordea's FX strategist Niels Christensen told Reuters today. "Having said that, with a September rate hike back in focus, I am biased towards more downside in the euro against the dollar."
A rate hike by the Federal Reserve would send the U.S. dollar higher in the short term, but according to a recent Money Morning report, there is actually much more pressure on the U.S. dollar now than most investors realize.
In fact, the actions of the Federal Reserve since the financial crisis of 2008 have undermined the U.S. dollar's value. The Fed has lost control of the dollar, and there is no longer a safety net for our currency.
This is especially alarming as it's one of five "flashpoints" taking shape today that will dethrone the dollar as the world's reserve currency. Get prepared now for this looming dollar collapse - this video will get you started as you protect your money and retirement:
Follow us on Twitter @moneymorning, and like us on Facebook: Money Morning.
Protect Yourself from a Total Market Collapse: According to CIA Asymmetric Threat Advisor Jim Rickards, there are five "flashpoints" that signal the death of the U.S. dollar and a complete economic collapse in the United States. Here's how you can protect yourself, and your money, before it's too late...
Related Articles: