Like much of his campaign, Jeb Bush's tax reform plan is "weak tea."
Bush proposes to reduce tax rates, which is a good thing. But he just doesn't go far enough.
Rather than a bold program to radically reshape the unproductive U.S. tax code, Bush does not go far enough to rewrite the DNA of the U.S. economy.
And make no mistake about it - the tax code is the DNA of the U.S. economy. It creates the incentives that drive businesses and individuals to make certain types of economic decisions that dictate how fast the economy grows.
Now, here's what we need to be doing instead...
An Alternative to Jeb Bush's "Buffet" of Tax Brackets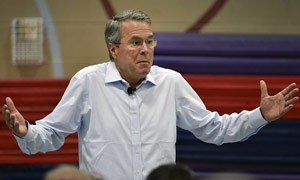 Bush offers three tax rates - 28%, 25%, and 10% - that are still too high. He also wants to cap deductions for wealthy taxpayers, but he isn't specific about how to do this.
Instead, the right numbers are...
25% for those earning more than $1 million;
20% for those earning more than $100,000; and
10% for those earning more than $10,000 per year.
And we should be eliminating all deductions - except charitable deductions, which should be capped at 20% of taxable income per year.
Bush's plan for only modestly lower rates and the retention of deductions with caps would leave us with a complicated tax code. We would be much better off with a simpler code with lower rates and fewer deductions.
Such a code would likely yield higher revenue and eliminate the distortions introduced into the economy by special-interest tax deductions.
This Plan Still Coddles Debt
Bush only partially addresses the biggest distortion introduced into the economy by the tax code - the unduly favorable treatment of debt.
Every time someone borrows money, the American taxpayer becomes a kind of silent partner in that transaction by participating in the tax subsidy that the tax code provides.
No wonder debt keeps growing...
The deductibility of interest should be eliminated entirely, but Bush only proposes to eliminate the deductibility of business interest expense, rather than all interest expense. There is no inherent reason why debt should be treated more favorably than equity.
By eliminating the deductibility of debt - including the deduction for interest on home mortgages - we can begin to recapitalize our economy with equity.
Income Is Income, So Tax It That Way
Join the conversation. Click here to jump to comments…
About the Author
Prominent money manager. Has built  top-ranked credit and hedge funds, managed billions for institutional and high-net-worth clients. 29-year career.