As it turns out, Black Friday's best sales were not in electronics, clothing, or gadgets. Instead, they came from today's gold price.
That's because on the biggest shopping day of the year, gold prices hit a new six-year low.
Closing at $1,055.90 per ounce on Friday, Nov. 27, on the New York Mercantile Exchange, gold's popularity seemed to also hit a new low since the February 2010 price of $1,045 per ounce.
But as you'll see, while the near-term reasons for a lower gold price are familiar ones, the reaction to these low prices was not typical…
Why Today's Gold Price Is Hitting Six-Year Lows
We're going to revisit a familiar but crucial input that has been playing havoc with gold prices – as I predicted it would…
The U.S. Dollar Index (DXY) is widely watched and has a significant effect on gold prices. And that's even more the case when the DXY approaches what is considered a relevant "psychological level."
That's exactly what has been happening over the past week.
On Wednesday, Nov. 25, the U.S. Dollar Index challenged the 100 level for the first time March this year.
Here's how its action looked on Wednesday: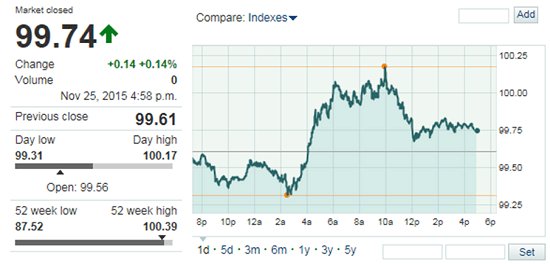 As you can see, the DXY actually traded above 100, on and off, between 6 a.m. and 11 a.m. that day, peaking at 100.17. But it lost momentum by late morning and traded around the 99.75 level for the remainder of the day.
Thursday saw little action, with the DXY bouncing between 99.75 and 99.90.
But then Friday, it saw renewed strength…
As America emerged from its turkey coma to shop, the U.S. Dollar Index took a dive down to 99.66 in the wee hours of the morning. It then reversed and headed higher to peak at 100.20 just after 9 a.m., remaining mostly above 100 the rest of the day to close at 100.02: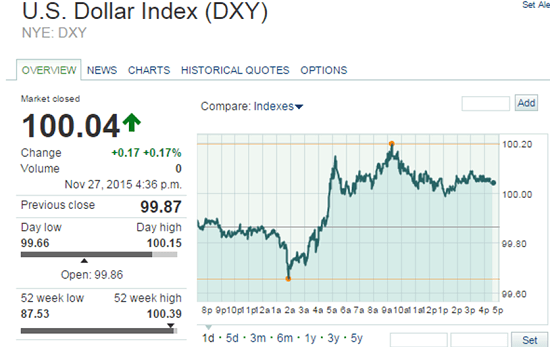 Although on a percentage basis the gain in the dollar was small, its trading above 100 had a strong psychological impact on traders who decided to dump gold wholesale.
And this is what predictably weighed on gold as America was busy shopping. Interestingly though, gold was not dumped by everyone.
How Gold Prices Moved as the Dollar Was Strong
Here's how the gold price behaved on Black Friday, Nov. 27:

At 8 a.m., gold began to cascade from around $1,066. The gold price lost $14 by 9 a.m.
After becoming quite oversold, it reversed and climbed higher again to peak at $1,061 just after 9:30 a.m.
But then the bears once again took charge and pushed gold back down to $1,057, a level around which it traded and eventually closed the day.
However, that's not the whole story. There's one anecdotal indicator that could push gold higher soon…
Join the conversation. Click here to jump to comments…
About the Author
Peter Krauth is the Resource Specialist for Money Map Press and has contributed some of the most popular and highly regarded investing articles on Money Morning. Peter is headquartered in resource-rich Canada, but he travels around the world to dig up the very best profit opportunity, whether it's in gold, silver, oil, coal, or even potash.